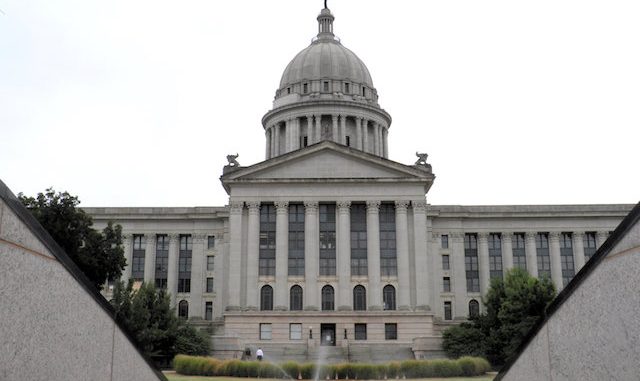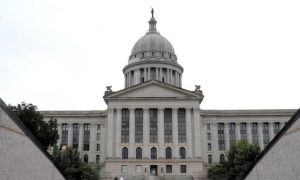 A group of more than two dozen "Black Lives Matter" protesters interrupted Oklahoma's House of Representatives on Wednesday to rally against Republican-backed bills, including legislation that protects motorists who inadvertently cause harm to rioters or protesters who put motorists lives at risk.
The Oklahoma House of Representatives was momentarily forced to come to a halt after more than two dozen Black Lives Matter activists filled the fifth floor gallery while it was in session.
"We will use our voices to stand against corruption," the group chanted as they entered the building, according to the local television station KOCO. "No justice, no peace."
"Stand united against all hate," the crowd chanted.
The protest was organized against the GOP-led HB 1674 anti-riot bill, which includes providing certain legal protections for drivers who injure or kill somebody when there is "reasonable belief" that they are in danger "fleeing from a riot," and another bill, HB 1643, that aims to protect law enforcement officers and their families from "doxxing."
The activists also voiced their anger against Senate Bill 2, which would ban transgender girls from competing in female sports.
"You're a disgrace, you're an embarrassment to the whole [expletive] nation," a male protester shouted while standing nose-to-nose with a lawmaker on the gallery floor.
"You are traitors, insurrectionists, seditionists," a woman shouted.
The disturbance lasted for several minutes before protesters were escorted out of the building by Oklahoma Highway Patrol.
Oklahoma Gov. Kevin Stitt this week signed into law HB 1674, which is authored by state Rep. Kevin West (R-Moore) and state Sen. Rob Standridge (R-Norman).
The bill will take effect on Nov. 1 and also amends state law to classify the unlawful obstruction of a road or highway as a misdemeanor publishable by up to a year in prison and a $5,000 fine.
"This is an important protection for citizens who are just trying to get out of a bad situation," West said. "When fleeing an unlawful riot, they should not face threat of prosecution for trying to protect themselves, their families, or their property."
Standridge said he was moved by an incident that occurred in Tulsa last summer at the height of the protests that followed the May 2020 death of George Floyd, an African American man who died while in Minneapolis police custody.
Critics of the bill have argued that it cracks down on "protests" and will ultimately harm peaceful protesters and innocent bystanders.
Gov. Stitt said in a statement that it sends a message that "rioters who threaten law-abiding citizens' safety will not be tolerated."
"I remain unequivocally committed to protecting every Oklahoman's First Amendment right to peacefully protest as well as their right to feel safe in their community," Stitt added.
HB 1643, which was also approved by Stitt, meanwhile makes it a misdemeanor for a person with the "intent to threaten, intimidate or harass" to use an "electronic communication device to knowingly publish, post or otherwise make publicly available personally identifiable information of a peace officer or public official" and result "in reasonable fear of death or serious bodily injury."
Individuals who commit the offense for the first time may face a prison sentence of up to six months or a $1,000 fine. That doubles upon the second conviction, according to the language of the legislation.
The "Save Women's Sports Act" passed the House by a 73-19 vote.