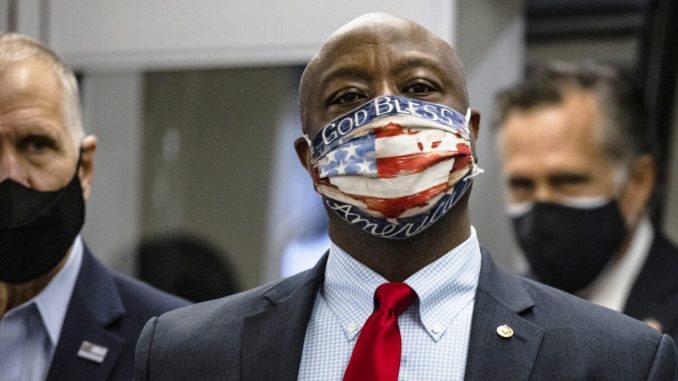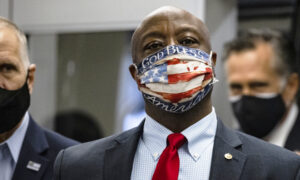 South Carolina Senator Tim Scott will deliver the Republican party's response to President Joe Biden's first joint address to Congress on April 28, Senate Minority Leader Mitch McConnell and House Minority Leader Kevin McCarthy said on Thursday.
"We face serious challenges on multiple fronts but I am as confident as I have ever been in the promise and potential of America," Scott said in a statement.
"I look forward to having an honest conversation with the American people and sharing Republicans' optimistic vision for expanding opportunity and empowering working families."
Scott, 55, a first-term senator, is considered a potential 2024 presidential candidate, and last month received an endorsement from former President Donald Trump for his reelection bid in 2022.
Trump at the time described Scott as "both an outstanding senator and person who works tirelessly for the people of his great state, and the USA."
"Strong on the military, law enforcement, loves our vets, protects our Second Amendment and our borders. Tim will continue to do an OUTSTANDING job for our country!" Trump said in a statement via email.
Biden on April 13 accepted an invitation from House Speaker Nancy Pelosi (D-Calif.) to address to a joint session of Congress next week—the night before his 100th day in office.
The president has faced criticism for delaying his first address, in contrast to his predecessors. Trump delivered his first speech to Congress on Feb. 28, roughly two months earlier than Biden.
Presidents usually use their first address to celebrate their early accomplishments and chart a course for their administration for the years ahead. Biden is likely to celebrate the passage of the pandemic stimulus bill, which cleared the Senate without a single Republican vote. The president will also likely speak about the torrent of executive actions he took in the early days of his term.
Biden's early actions included the reversal of more than a dozen key border and immigration policies of the Trump administration. The reversals triggered a flood of illegal immigrants at a pace unseen in decades that Biden recently called a "crisis."
McConnell in a statement described Scott as one of the strongest leaders in the Senate Republican conference, and "one of the most inspiring and unifying leaders in our nation."
"As Sen. Scott likes to say, he is living his mother's American dream, and he has dedicated his career to creating more opportunity for our fellow citizens who need it most," McConnell said.
"He is a conservative optimist with the right vision for a stronger, more united country," McCarthy added.
"Today's Republican Party is a growing coalition of working Americans who value freedom in pursuit of the American dream. No member in Congress epitomizes the essence of today's Republican Party more than my friend and colleague Sen. Scott."
Ivan Pentchoukov contributed to this report.