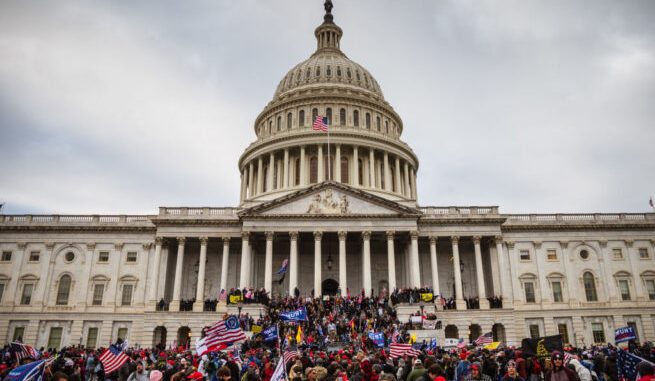 OAN Newsroom
UPDATED 5:25 PM PT – Wednesday, January 13, 2021
Federal officials said more than 170 people have been charged in connection with the protests at the U.S. Capitol on January 6. The work is just beginning.
This announcement came during Tuesday's briefing, in which the FBI called on the public to help identify people at the demonstration. Officials stated tips have uncovered more than 100,000 pieces of evidence — producing information that's going out to field agencies across the country.
The Acting U.S. Attorney for the District of Columbia, Michael Sherwin, said the investigation won't be solved for some time. He noted charges ranged from trespassing and theft to assault and murder.
After charges are filed, law enforcement officials across the country can begin their arrests. Sherwin also said the federal government is pursuing thousands of leads in what is likely the largest investigation of its kind.
"I think the scope and scale of this investigation in these cases are really unprecedented," Sherwin stated. "Not only in FBI history, but probably DOJ history, in which essentially the Capitol grounds outside and inside are essentially a crime scene."
There are still conflicting accounts of whether or not local law enforcement had been alerted to the possibility of violence ahead of time. This week, reports said both the FBI and New York Police Department warned the U.S. Capitol Police about the possibility of violence on January 6. Additionally, a senior FBI official reportedly claimed to receive "credible and actionable information" about more than a dozen people planning to attend the protest to engage in violence.
However, late last week, the head of the FBI's Washington Field Office stated there was "no indication there was anything planned, other than First Amendment protected activity." On Tuesday, he also said there was no threat of violence linked to any specific person.
"The FBI cannot open an investigation without a threat of violence or alleged criminal activity," Steven D'Antuono, the Assistant Director in charge of FBI's Washington Field Office, claimed. "And in this case, we had no indication information was linked to any specific person, but this was a matter of an online discussion. This information was immediately disseminated through a written product and briefed to our Command Post Operations through all levels of law enforcement."
Reports on Wednesday said the FBI's Washington office did share some information about threats of violence, however, Acting Assistant Police Chief Sean Gallagher told lawmakers he never saw this information. This claim was backed up by recently resigned Chief Steven Sund.
On Tuesday, Sund said he was never briefed on any intelligence from the FBI. He claimed the warning would have been taken seriously if it had been made, but that no such intelligence was taken into consideration in the security planning.
According to reports, the FBI didn't issue an intelligence bulletin to share information analysts gathered about violent social media posts. Some officials were reportedly concerned that the bulletin would violate First Amendment protections for political speech.