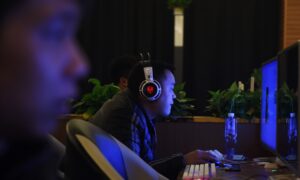 The Chinese Communist Party (CCP) is asking citizens to snitch on online internet users who fail to toe Beijing's line when commenting on Chinese history, according to a recent announcement by China's cyber regulator.
The Cyberspace Administration of China (CAC), in an announcement on April 9, said that its long-existing hotline 12377—which allows people to report on online activities such as fraud and rumors—was now open to allow people to report on netizens who "distort" the CCP's history, attack Party leaders and their thoughts and policies, and defame "national heroes."
The CAC said that the objective was to crack down on people who spread "historical nihilism" ahead of the CCP's 100th anniversary in July this year. It accused these "nihilists" as individuals with "ulterior motives," who "maliciously distort, denigrate, and negate the history of the Party, the country, and the military."
Throughout much of its history, the Chinese regime has waged wars against the concept of "historical nihilism," which refers to public skepticism about the CCP's narratives of past events. For example, questioning the legacies of former Chinese leaders Deng Xiaoping and Mao Zedong is considered a dangerous category of historical nihilism that could threaten the Party's right to rule.
The war against historical nihilism continues under current leader Xi Jinping. In April 2018, the communist regime passed a law making it a crime to slander CCP heroes and revolutionary martyrs. Less than a month later, the prosecutor's office in eastern China's Jiangsu Province invoked the law in a lawsuit against a man who was accused of his online criticism of a fireman who died during a rescue operation days earlier.
In April last year, Xi asked China's youth to "consciously resist mistaken thoughts," including extreme individualism and historical nihilism.
Most recently, on April 7, China's state-run media reported that a 19-year-old netizen was detained in Jiangsu after making "insulting" remarks on Chinese social media against victims of Japan's war crimes committed during its occupation of the Chinese city of Nanjing during the Second Sino-Japanese War (1937-1945).
In an interview with the Chinese-language Epoch Times on April 12, Feng Chongyi, an associate professor in China Studies at the University of Technology in Sydney, said that the timing of the CAC's decision to launch the hotline against "historical nihilism" was significant.
Feng explained that the communist regime must be in a "perilous state," facing problems that challenged the legitimacy of its rule.
He added that Xi himself must be fully aware of some of the dark chapters of the CCP's history on political infighting, including how his father Xi Zhongxun was politically purged after being accused of leading an "anti-Party clique."
As a result, Feng said that Xi knew that it would be "difficult to control the general populace" if these darks chapters became publicly available.
The CAC's hotline was not the only recent new initiative by the communist regime to control people's understanding of the CCP's history.
On March 24, China's state-run media Xinhua reported that Beijing launched an official website for people to learn the CCP's history.
Less than a month later, the CAC announced on its website that it held a meeting on April 13, focusing on how to do online promotions on learning the CCP's history. The meeting was attended by regional CAC heads, heads of state-run media, including Xinhua, and heads of regional news websites.
The meeting discussed the importance of creating online content that would generate "a strong atmosphere in cyberspace to celebrate the [CCP's] 100th anniversary." Additionally, it said that the content must use "internet language" so that young Chinese netizens will "listen to the Party [and] follow the Party."