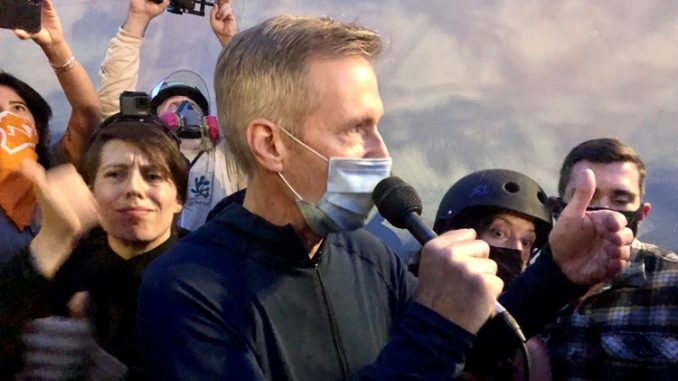 OAN Newsroom
UPDATED 10:19 AM PT – Thursday, October 1, 2020
The Department of Justice denied a request by Portland's mayor to end the federal deputization of police officers. During a community event Tuesday, Mayor Ted Wheeler said he requested an end to the program following months of riots and destruction.
Th Justice Department deputized U.S. Marshals and officers last weekend ahead of a planned conservative rally, which saw zero major incident reports.
Sharing my message of gratitude to our community and our law enforcement agencies for ensuring demonstrations remained largely peaceful throughout the day.https://t.co/oKMz8RFwWB

— Mayor Ted Wheeler (@tedwheeler) September 27, 2020
Federal deputization means any assault against an officer could be subjected as a federal charge. Mayor Wheeler said he was under the impression the program would be ending sooner.
"Everybody was under the assumption or at least the state police and I believe the leadership of the Portland Police Bureau were under the assumption that that deputization was only for the duration of the declared emergency," stated the Democrat.
The program is currently set to run until the end of the year to ensure demonstrations remain peaceful.