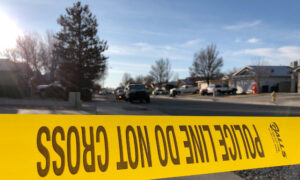 Authorities in Louisiana are investigating a shooting that erupted at a child's birthday party over the weekend, injuring six people—including the 12-year-old child, police said.
The gunfire was sparked by an undisclosed "verbal confrontation" at the Saturday night party located in LaPlace, according to a statement from the St. John the Baptist Parish Sheriff's Office.
Police said none of the injuries are life-threatening, though no specific details were provided regarding the victims' injuries.
"As of this morning, the SJSO is not aware of any fatalities related to the incident," the office said.
No arrests were announced as of Monday morning in relation to the weekend incident that appears to include more than one suspect.
SJSO Sheriff Mike Tregre told NOLA.com in an interview on Sunday that detectives will continue to hunt down the suspects and "will not stop."
"We will not stop. We're going to continue at this," the sheriff said.
Tregre said detectives working on the investigation have been struggling as they haven't found anyone stepping forward to potentially provide information in the case.
"We have not one witness, not one person that saw anything yet. So we're trying to solve it on our own right now," Tregre told the network. "I'm going to be polite—it's more than frustrating."
According to the evidence that was gathered from the scene of the shooting, it appears more than one firearm was used by the perpetrators, the sheriff said.
He also said detectives believe two groups of young men involved in an ongoing feud met up at the child's birthday party prior to the mass shooting.
Officers responded to the incident in the 600 block of Golfview Drive in LaPlace at about 8:30 p.m. that Saturday and learned upon arrival multiple people were shot following the verbal altercation.
LaPlace is situated along the east bank of the Mississippi River in the New Orleans metropolitan area.
From NTD News