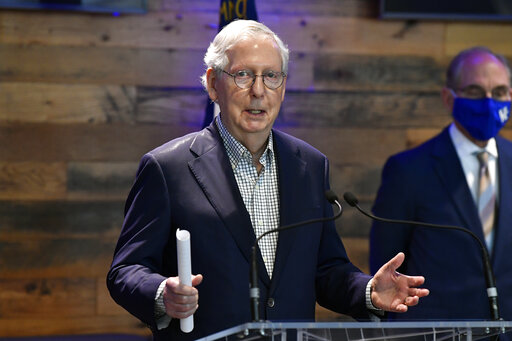 OAN Newsroom
UPDATED 3:05 PM PT – Tuesday, April 6, 2021
Senate Minority Leader Mitch McConnell (R-Ky.) called out corporations for trying to influence how states pass laws.
During a press conference on Tuesday, McConnell said it's "stupid" for corporations to pull businesses out of states who pass laws they don't like. The lawmaker was responding to MLB's decision to move their All-Star Game out of Georgia over a recently passed voting rights law.
Our private sector must stop taking cues from the Outrage-Industrial Complex. Americans do not need or want big business to amplify disinformation or react to every manufactured controversy with frantic left-wing signaling. My full statement: https://t.co/3Ck3qW4Mbe

— Leader McConnell (@LeaderMcConnell) April 5, 2021
He claimed the move was hypocritical, noting several blue states that have more restrictive voter eligibility laws, including New York and Delaware.
"So my warning, if you will, to corporate America is to stay out of politics," McConnell stated. "It's not what you're designed for. And don't be intimidated by the left into taking up causes that put you right in the middle of one of America's greatest political debates."
McConnell added it would be unwise for these corporations to alienate Republicans who use their products.