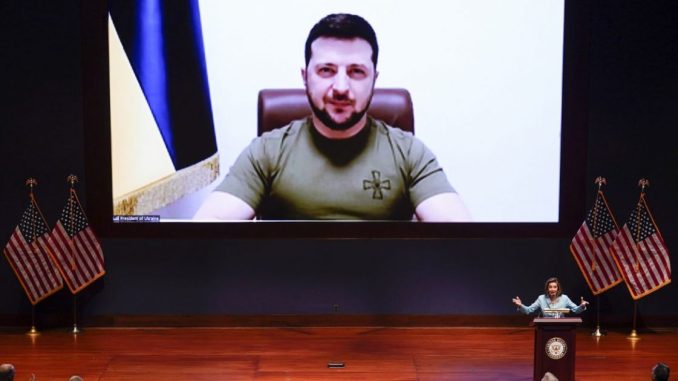 OAN Newsroom
UPDATED 10:06 AM PT – Friday, March 18, 2022
The House of Representatives passed a bill suspending regular trade relations with Russia for it's invasion of Ukraine. In a 424-to-eight vote on Thursday, House lawmakers voted in support of removing permanent normal trade relations status with Russia and Belarus to inflict economic pain on Russia.
"Russia's cruel and unprovoked invasion has already forced nearly 3 million Ukrainians to flee their homes, creating what the United Nations has called the greatest, the fastest growing refugee crisis in Europe since WWII, " said House Speaker Nancy Pelosi (D-Calif.) ."Because (Vladimir) Putin shows no sign of ceasing his horrible aggression, the Congress today will take another step in, lockstep with many of our allies as is the Biden administration, to tighten our stranglehold on the Russian economy."
This morning, Members of the House and Senate had the distinct privilege of receiving a virtual address by President @ZelenskyyUa. Congress and the country remain unwavering in our commitment to the people of Ukraine as they courageously defend democracy. pic.twitter.com/EH146nPKAW

— Nancy Pelosi (@SpeakerPelosi) March 16, 2022
Prior to the vote, Republican Rep. Victoria Spartz (R-Ind.), the only Ukrainian-born member of Congress, made an emotional appeal.
"They cannot just go kill a bunch of people, destroy cities, kill women and children, and then go back and have business as usual," she asserted. "Congress is sending a very strong message. If they want to have peace, it better be soon. And they better get to the table and stop this insanity, and killing of the Ukrainian people."
She further added, it's also vital that close Russian ally Belarus is included in the act and must also suffer the consequences.
"People of Belarus need to understand that their leader is part of what is happening and this genocide in Ukraine," Spartz continued. "And we cannot create a loophole where Putin is going to use Belarus to funnel monies through them."
Ukraine is the second colossal failure of judgement from current Pentagon, but this time with even higher cost. Hard to understand why @POTUS Biden is still dragging his feet

My constituent Kirk, Vietnam War veteran, offered his qualifications if needed: 'resolve & common sense' https://t.co/i7Us9O2QVo

— Rep. Victoria Spartz (@RepSpartz) March 11, 2022
Additionally, Rep. Glenn Grothman (R-Wis.), who voted against the legislation, said he had concerns about the part of the bill that would alter a human rights known as the Magnitsky Act.
The measure will allow Joe Biden to increase tariffs on the two nations until January 1, 2024. However, the bill still has to pass in the Senate before heading to the President's desk.