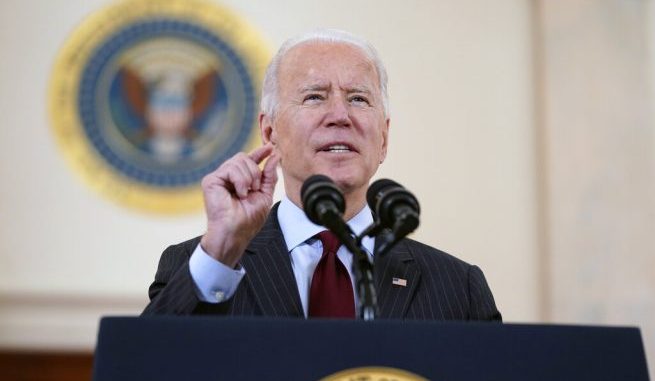 OAN Newsroom
UPDATED 3:35 PM PT – Monday, February 22, 2021
A conservative caucus in the House has laid out plans on how to combat Joe Biden's $1.9 trillion COVID-19 relief bill. On Monday, the Republican Study Committee released a three-page memo to highlight "all the left-wing items Democrats are hoping the public won't find out about."
RSC chairman Rep. Jim Banks (R-Ind.) doubled down on his calls for transparency, saying taxpayers need to be informed about what's in the bill. A number of issues in the package have raised eyebrows. For that reason, Banks said he and other Republican lawmakers hope this memo can serve as a fact sheet to educate Americans on what is at stake.
In the memo, the RSC raised concerns over extending PPP business funding to owners who could have a felony record, including violent criminals. It also shed light on the fact that under the bill, some undocumented immigrants would be eligible to receive the $1,400 proposed stimulus checks.
Spot on, @GOPLeader! https://t.co/mZLSuJIQ17

— RSC (@RepublicanStudy) February 22, 2021
Even controversial large companies such as Planned Parenthood would also receive funds through the Paycheck Protection Program, meant for small businesses.
The RSC went on to highlight the subsidies and loan forgiveness to farmers and ranchers, based solely on race and ethnicity.
House GOP Whip Steve Scalise (R-La.) has also sounded the alarm over what he called a "liberal wish list," accusing Democrats of not prioritizing economic relief to Americans. He has continued to criticize the Biden White House and the Democrat relief bill since its unveiling, especially when its comes to the topic of reopening schools.
This isn't just kids sad they can't see friends.

The mental health toll of remote school is SEVERE.

Parents are writing to me about kids attempting suicide and being diagnosed with depression.

We can fix this.

Why won't Dems listen to the CDC and call for schools to reopen? pic.twitter.com/LJogGeB1Xa

— Steve Scalise (@SteveScalise) February 22, 2021
"The Congressional Budget Office said the money in this relief package moving through Congress this next week, that money will not even be able to be spent," Scalise said. "95 percent of it won't even be able to be spent until 2022. So do they really want to pass a bill that's going to delay reopening schools even more? Our kids can't wait."
A full House vote is expected as soon as this week.