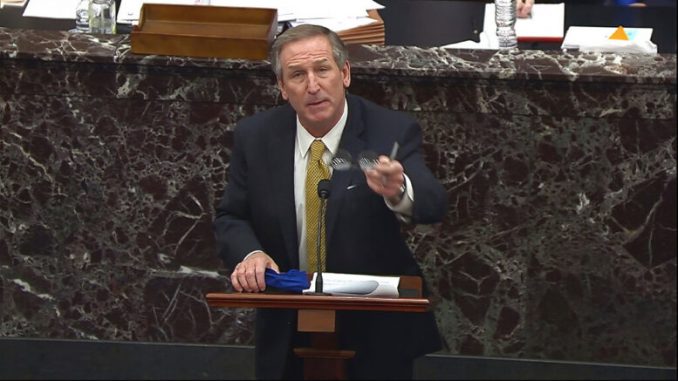 OAN Newsroom
UPDATED 2:25 PM PT – Friday, February 12, 2021
President Trump's defense team gave their opening arguments on why he is not guilty of inciting the January 6 Capitol breach.
Speaking from the Senate floor on Friday, the President's lawyers called the impeachment trial an act of political vengeance by Democrats, arguing that the President's words are protected under the freedom of speech.
"This appalling abuse of the Constitution only further divides our nation when we should be trying to come together around shared priorities," defense attorney Michael van der Veen stated.
The defense team added that President Trump's words were not directly connected to those who had breached the Capitol.
Van der Veen went on to call the trial a political hit job.
"Like every other politically motivated witch hunt the left has engaged in over the past four years, this impeachment is completely divorced from the facts, the evidence and the interests of the American people," Van der Veen said. "The Senate should promptly and decisively vote to reject it."
Despite Democrats' efforts, analysts have said they are unlikely to get a conviction due to the evenly divided Senate.