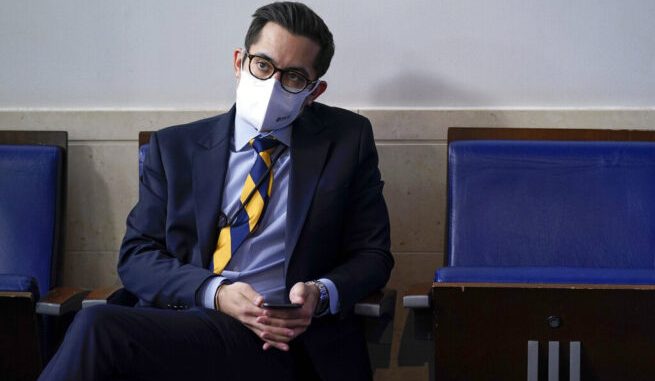 OAN Newsroom
UPDATED 1:35 PM PT – Friday, February 12, 2021
White House deputy press secretary TJ Ducklo is on unpaid suspension amid reports he sent derogatory and misogynistic messages to reporters.
Press secretary Jen Psaki announced the suspension on Friday, after Vanity Fair reported that Ducklo threatened a Politco reporter off the record when she reached out to him to confirm his relationship with a reporter who works for Axios.
After Ducklo was questioned on the conflict of interest, he reportedly lashed out, saying the reporter was "jealous" of his relationship, used sexist language and said "I will destroy you."
Psaki said Ducklo will return after one week and will not interact with Politico reporters. The slap on the wrist is far different than what Joe Biden previously said about bad behavior in his administration.
TJ Ducklo has apologized to the reporter, with whom he had a heated conversation about his personal life. He is the first to acknowledge this is not the standard of behavior set out by the President.

— Jen Psaki (@PressSec) February 12, 2021
"If you're ever working with me and I hear you treat another colleague with disrespect, talk down to someone, I promise you I will fire you on the spot, on the spot," Biden stated. "No if, ands, or buts. Everybody, everybody is entitled to be treated with decency and dignity."
Critics are slamming the Biden press office after their initial response only acknowledged Ducklo's comments were inappropriate, but did not take disciplinary action until Vanity Fair made his conduct public.