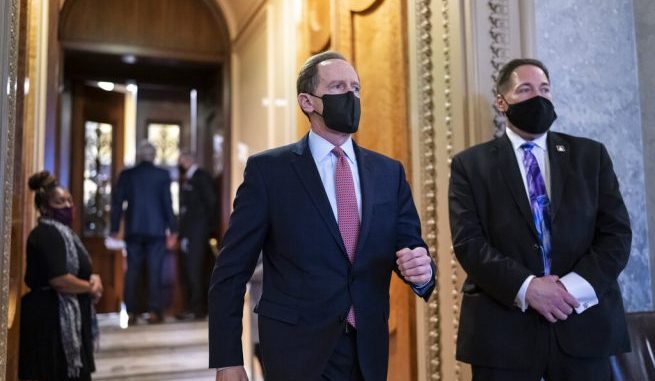 OAN Newsroom
UPDATED 10:02 AM PT – Monday, February 8, 2021
Republicans are slamming the impeachment trial against President Trump as an unconstitutional, partisan power play.
Over the weekend, multiple Republican senators cast significant doubt over Democrat efforts to convict the 45th president over allegations that he incited violence during the January 6 protest at the U.S. Capitol.
In an interview Sunday, Sen. Pat Toomey (R-Pa.), who will be a juror in the impeachment trial Tuesday, said he thinks an actual conviction is highly unlikely.
"I think it's very unlikely, I mean, you did have 45 Republican senators vote to suggest they didn't think it was appropriate to conduct a trial, so you can infer how likely it is those votes will vote to convict," he stated.
In an interview Sunday, Sen. Rand Paul (R-Ky.) took a harsher stance on the matter by framing this impeachment as an attack on free speech. He said if a president can be convicted for telling people to fight for their liberties then lawmakers like Sen. Chuck Schumer (D-N.Y.) should be charged as well.
His comments are referring to an incident back in March of 2020, where Schumer appeared to threaten two Supreme Court justices.
"I want to tell you Gorsuch, I want to tell you Kavanaugh, you have released the whirlwind and you will pay the price," the New York Democrat previously stated. "You won't know what hit you if you go forward with these awful decisions."
On Sunday, Sen. Bill Cassidy (R-La.) also weighed in on the impeachment process in an interview with NBC. He took aim at the House over its lack of due process or trial before voting to impeach the president. The senator noted it seemed like more of a spit-second decision than a measured process.
"Let's face it, the House did an incredibly poor job of building their case before the impeachment vote," Cassidy stated. "The President wasn't there, he wasn't allowed council, they didn't have mass evidence…in five hours they kind of judged and 'boom' he's impeached."
The impeachment trial is scheduled to begin Tuesday.