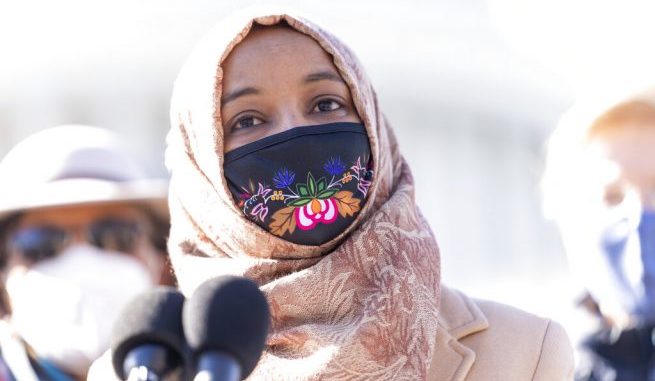 OAN Newsroom
UPDATED 10:26 AM PT – Monday, February 8, 2021
Rep. Ilhan Omar (D-Minn.) has inspired new legislation after federal reports claim she funneled campaign money to her husband. GOP lawmakers are now trying to crackdown on members of Congress who funnel campaign funds to their spouses.
Rep. Tom Tiffany (R-Wis.) and Rep. Mike Gallagher (R-Wis.) recently introduced the Oversight for Members and Relatives Act or OMAR Act. The lawmakers claimed members of both parties launder money to their spouses by hiring them onto their campaigns. They believe the practice is inappropriate for people running for public office and contributes to the erosion of public trust in our government.
The bill would put an end to candidates for office tapping their campaign accounts to enrich their spouses.

It is outrageous and inappropriate for Members of Congress to convert campaign donations to personal funds in this way.

— Rep. Tom Tiffany (@RepTiffany) February 5, 2021
"You cross the line into the ethical and legal if there is improper use of campaign funds," stated Minority Leader Rep. Kevin McCarthy." The question is going to be whether the consultant was conducting normal, documented work at a market rate."
The acronym suggests the bill is aimed at Democrat Rep. Omar who has come under fire for hiring her husband's consulting firm the E Street Group. Reports from he Federal Election Committee showed her campaign paid the E Street Group nearly $3 million during the 2020 election cycle.
This reportedly contributed to nearly 80 percent of the consulting firm's income that year. Omar claims to have been in contact with top FEC lawyers during the election cycle who assured her she was not doing anything illegal.
Republicans have been setting their sights on Omar for much of her tenure in Congress over her alleged anti-Semitic comments towards Israel. Last week, a group of Republicans in the House attempted to garner support for stripping Omar of her committee assignments, which is a similar action Democrats took towards Rep. Marjorie Taylor Greene (R-Ga.)
Meanwhile, both Democrats and Republicans have come together on the issue of channeling campaign funds to spouses. They believe correcting the practice could promote greater transparency in election finance and clean up the culture of corruption.