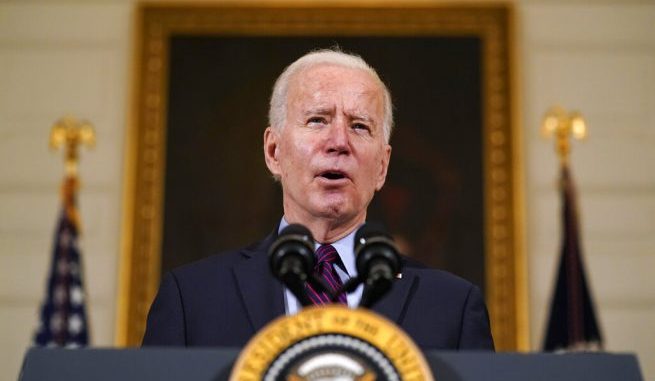 OAN Newsroom
UPDATED 9:09 AM PT – Monday, February 8, 2021
Joe Biden said the U.S. will not lift Trump-era sanctions on Iran until it stops enriching uranium. He confirmed that in an interview with CBS on Sunday.
Back in 2018, President Trump pulled out of the Iran Nuclear Deal and imposed strict economic sanctions on the regime. He argued the Ayatollah regime was not following through on the deal to discontinue its nuclear weapons program and a better agreement needed to be reached.
Despite this, the Biden administration has signaled it wants to rejoin the 2015 nuclear deal. Meanwhile, Iranian leadership has claimed it's "America's responsibility" to lift sanctions before Iran will resume compliance with the nuclear agreement. Iranian Foreign Minister Javad Zarif made those remarks during a Sunday interview.
Although Iran acknowledges it broke some of the agreement's terms following U.S. withdrawal under President Trump, it maintains the U.S. is responsible for the deal's failure. In an echo of previous ultimatums issued by other top Iranian officials, Zarif took a hard-line stance by asserting it's the U.S. who must make concessions to reestablish the agreement.
"We do not buy the horse twice, you put yourselves in our shoes," stated the foreign minister. "You agreed to a deal, you agreed to give and take, you agreed to sacrifice certain demands that you had because you agreed not to deal with certain issues."
The controversy comes amid growing pressure on Biden to declare whether he will seek to rejoin the deal despite reports indicating Iran continues to enrich material that could be used in production of nuclear weapons. Critics of the deal have said its terms did not do enough to prevent Iran from developing nuclear capabilities and sanctions should be renewed.
Amid the emerging stalemate over the nuclear deal, Iran's supreme leader issued an ultimatum to the Biden administration. Ayatollah Ali Khamenei took to Twitter on Sunday to condemn the U.S. for not lifting sanctions on Iran in order to resume denuclearization talks.
Khamenei claimed the enactment of sanctions on Iran under President Trump signals the decline of American power, adding "the post U.S.-era has started." In an interview Sunday, he echoed remarks by other top Iranian officials while noting a return to the agreement's terms would only come following concessions from the U.S.
"They did not fulfill their JCPOA agreements at all, they temporarily removed some, not all, of the sanctions for a very short period of time in the beginning," stated Khamenei. "Then they went back and they even increased the sanctions…they increased the number of sanctions by two to three times."
Iranian state media has described this as the country's "last word" on the deal, signaling an unwillingness to negotiate on the regime's part. Although Iran maintains it's not pursuing the manufacture of nuclear weapons, reports indicate the country has significantly ramped up its uranium enrichment program.