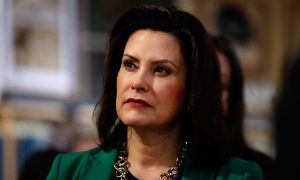 A Canadian energy company has defied an order from Michigan Gov. Gretchen Whitmer to shut down a controversial oil and gas pipeline Wednesday amid growing concern that doing so could lead to fuel disruptions similar to those resulting from last week's cyberattack on an East Coast system.
The Democratic governor gave Canadian pipeline company Enbridge until Wednesday to shut down Line 5, which runs under the Straits of Mackinac, amid fears that it could spill in a channel linking two of the Great Lakes.
"These oil pipelines in the Straits of Mackinac are a ticking timebomb, and their continued presence violates the public trust and poses a grave threat to Michigan's environment and economy," Whitmer's office said in a statement.
However, Enbridge refused to comply with the order, saying that only the federal government has regulatory authority over its operations. It says leaks have never occurred in the underwater section of Line 5, although in 2010, a different Enbridge pipeline spilled nearly a million gallons of oil into Michigan's Kalamazoo River.
The company said it is currently "working to tunnel beneath the lake bed to further improve the safety of the pipeline."
Line 5 moves oil and natural gas liquids for 645 miles (1038 kilometers) through northern Wisconsin and Michigan to Sarnia, Ontario. The nearly 23 million gallons (87 million liters) it carries daily are refined for gasoline, jet fuel, and propane in several Midwestern states, as well as Ontario and Quebec.
Enbridge explained its decision, supported by numerous chambers of commerce, Republican legislators in Michigan, and the Canadian government, by pointed to last week's hack of the computer systems linked to the Colonial Pipeline, which carries gasoline and diesel from Texas refineries to supply around 45 percent of the gasoline consumed on the East Coast.
Fears of fuel shortages led to panic-buying and widespread purchases that have left thousands of filling stations without fuel.
"The cyberattack that triggered an unplanned, temporary closure brings to the forefront what consumers could face," said Mike Moeller, Enbridge's director of operations for the Great Lakes region. "Without Line 5, consumers will shoulder the burden of supply disruptions and related price increases, particularly for propane and transportation fuel."
Whitmer's office has repeatedly warned Enbridge that continuing to operate Line 5 "constitutes an intentional trespass" and that its "unlawful" defiance of her order would be "at its own risk."
"If the state prevails in the underlying litigation, Enbridge will face the prospect of having to disgorge to the state all profits it derives from its wrongful use of the easement lands following that date," the governor told Enbridge in a letter .
The Canadian government has argued that the 1977 Transit Pipelines Treaty between Canada and the United States guarantees the free flow of oil between the two nations.
The Associated Press contributed to this report.