London police said Black Lives Matter activist Sasha Johnson was shot by a group of four black men, and nothing is suggesting she was the intended target of the attack.
Johnson was shot in the head early on Sunday morning at a party in southeast London. According to her political party, she had been left in critical condition and in intensive care.
The Metropolitan Police said a dedicated team of detectives has been working to identify the perpetrator(s) and they are making good progress.
"From our enquiries so far, we have established that Sasha had been at a party at a house on Consort Road in Peckham early on Sunday morning," Met Commander Alison Heydari said in a statement emailed to The Epoch Times on Tuesday.
"Around 3 a.m. a group of four black males dressed in dark coloured clothing entered the garden of the property and discharged a firearm," the statement reads.
"They had left the scene before officers arrived."
Heydari also said when delivering the statement on camera that the group of men are young.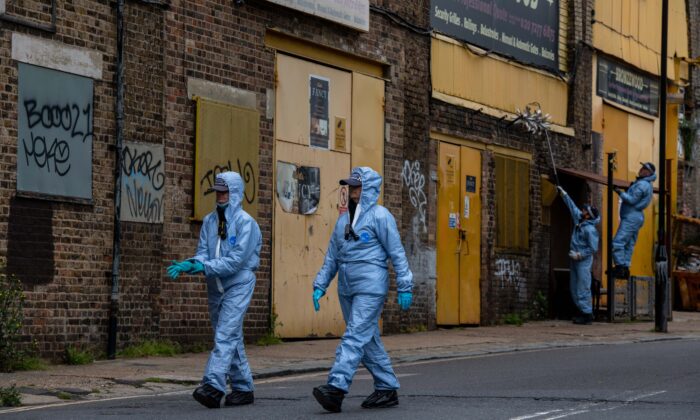 Johnson's party, Taking the Initiative Party (TTIP), had alleged that Johnson was shot "following numerous death threats as a result of her activism," and it noted that Johnson, a mother of three children, is "both a member of BLM and a member of Taking the Initiative Party's Executive Leadership Committee."
TTIP also alleged that the incident was an "attempted murder" and "a hate crime or a targeted attack at worst," and accused Imarn Ayton—who told the BBC and ITV that she believed that "this incident is more related to rival gangs as opposed to her activism," and that "it was 'wrong place, wrong time'"—of "claiming" to be Johnson's friend.
The BBC said Ayton is a friend and "fellow activist" of Johnson's, and ITV said the pair met during the Black Lives Matter protests last year.
Police said it was "a shocking incident that has left a young woman with very serious injuries," but there's no evidence at the moment that suggests Johnson was the target.
"We are aware of Sasha's involvement in the Black Lives Matter movement in the UK and I understand the concern this will cause to some communities—however, I wish to stress that at this time there is nothing to suggest Sasha was the victim of a targeted attack," Heydari said in her statement.
"We are also not aware of any reports of threats made against her prior to this incident."
Heydari said the Met is "doing everything possible" and appealed to the public to provide information.
TTIP also said they had received both "love and support" for Johnson and emails and social media messages celebrating her attack and wishing she dies.
Jack Phillips contributed to this report.