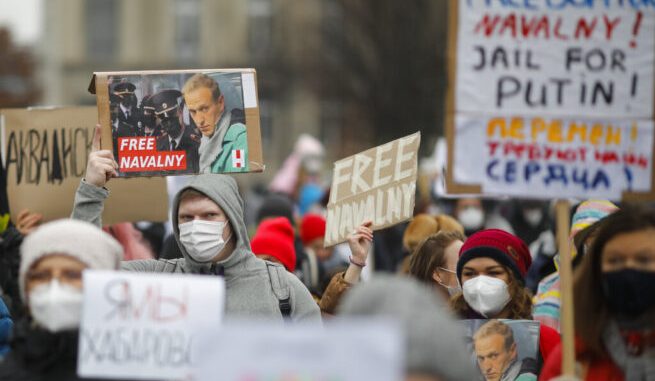 OAN Newsroom
UPDATED 8:22 AM PT – Monday, January 25, 2021
Thousands of Russians are taking to the streets across the U.S. to support opposition leader Alexey Navalny and denounce transnational corruption.
Crowds of Russians rallied outside the consulate in New York and the embassy in Washington, D.C. while smaller rallies took place in Chicago and Los Angeles.
People went to protest the arrest of @navalny today in front of the Russian Consulate in New York City. Everyone's safe, everyone's peaceful. #SolidarityWithRussia #FreeNavalny #23январяЗаСвободу pic.twitter.com/sdKEFtj5Ok

— Ademi Tore (@AdemiTore) January 23, 2021
According to reports, the Russian population of the U.S. has doubled since 2010, increasing from 3 million to 6 million people, amid a 40 percent surge in Russian asylum cases.
Protesters blame the Putin regime for the miserable "Russian witch hunt" in the U.S. and have said Alexei Navalny must become president of Russia.
"There's no human rights. Putin is not a president, he's a mafia head guy," stated Dimitri Valuev of the Free Russia Foundation. "People are supporting Alexei Navalny because he is a prominent leader. He has been very successful in anti-corruption investigations of Putin's elite and Putin himself."
Navalny has been in detention since his return to Russia on January 17. which has prompted hundreds of thousands of people to rally in his support across Russia over the weekend.