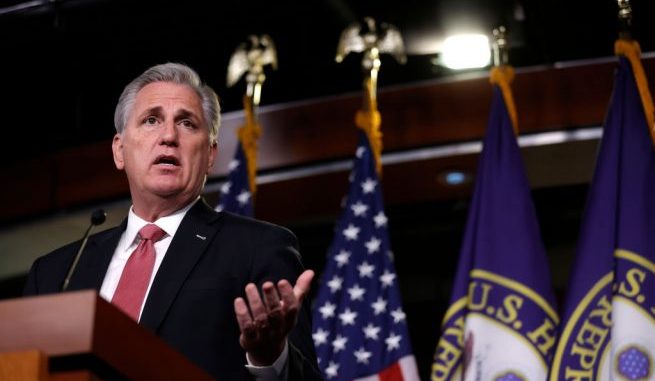 OAN Newsroom
UPDATED 2:40 PM PT – Thursday, January 21, 2021
Within hours of taking the oath of office, Biden signs a total of 17 executive actions.
"Some of the executive actions I'm gonna be signing today are gonna help change the course of the COVID crisis," Biden stated. "And we're gonna combat climate change in a way that we haven't done so far."
On the same day he was sworn in as the 46th president, Biden quickly worked to undo the legacy of his predecessor, President Trump. However, criticism over Biden's sweeping reforms came as quickly as he signed them.
During a briefing Thursday, House Minority Leader Kevin McCarthy (R-Calif.) called it the "wrong priorities at the wrong time."
"I was disappointed to see within hours of assuming office, the new administration was more interested in helping illegal immigrants," McCarthy stated. "Than helping our own citizens."
McCarthy said Biden is already trying to appease climate lobbyists and the World Health Organization instead of focusing on how to re-open the country.
"More interested in virtue signals to the climate activist than supporting the union workers who were building the Keystone XL pipeline," McCarthy added. "And more interested in appeasing the WHO than getting to the bottom of how China released this virus to the world in the first place."
He stressed the need for unity, but said the left is already heading in a divisive direction. McCarthy also noted that despite a party shift in Washington, the challenges facing America remain the same, which is something the Biden administration and Congress must acknowledge.