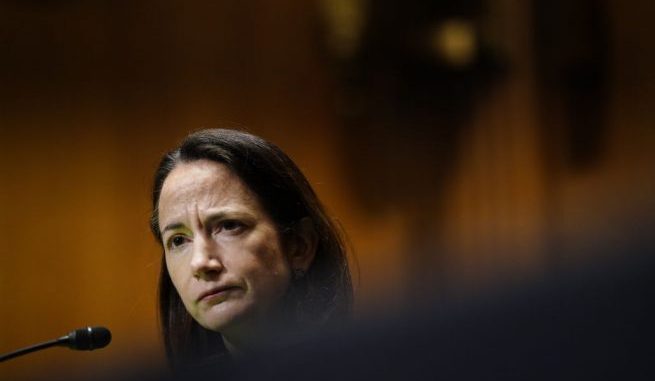 OAN Newsroom
UPDATED 2:05 PM PT – Thursday, January 21, 2021
The Senate approves Joe Biden's pick for the Director of National Intelligence.
On Wednesday, Avril Haines became the first of the new administration's nominees to get approved by a bipartisan majority.
Haines' confirmation did hit a snag on Tuesday after Sen. Tom Cotton (R-Ark.) objected to the nomination until she clarified an answer about the CIA's interrogation program during the George W. Bush administration.
During her confirmation hearing on Tuesday, senators grilled the former Obama advisor on her stance on China, as well.
"I think our approach to China has to evolve and essentially meet the reality of the particular assertive and aggressive China that we see today," Haines said. "China is a challenge to our security and prosperity in our values across a range of issues and I do support an aggressive stance, in a sense, to deal with the challenge that we are facing."
Sen. Susan Collins (R-Maine) raised concerns over Biden's intention to rejoin the controversial 'Iran Nuclear Deal,' also known as the JCPOA.
"Many in the Senate, myself included, did not support the agreement because it did not provide for any time [for] inspections," Collins stated. "It did not sufficiently constrain the development of ballistic missiles and it would leave Iran in a stronger, wealthier position because of all the sunsets that were included in the agreement."
President Trump withdrew from the JCPOA in 2018. He said the deal rewards Iran for temporarily curbing parts of its nuclear program.
When asked about whether she has reservations on her strong support of rejoining the agreement, Haines seemed to skirt the questio. Instead, she insisted she would provide transparency regarding Iran.
"My hope and my role would be to provide all of you with the best possible information about the status — for example — of Iran's program and about their activities," Haines noted. "[And] give you information that will allow you to make the best judgment under the circumstances for what is the appropriate act to be taken."
However, Haines did assert rejoining the agreement is a "long ways" to go.