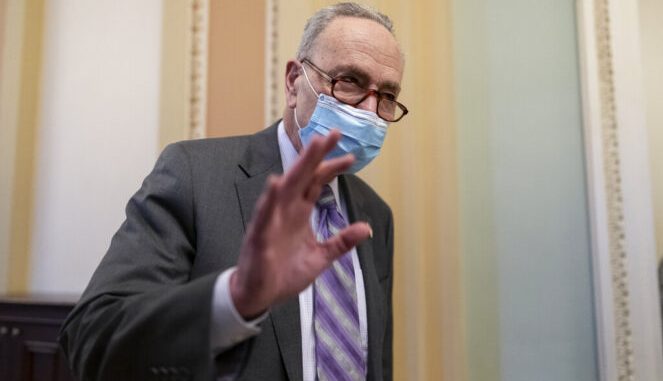 OAN Newsroom
UPDATED 4:45 PM PT – Tuesday, February 9, 2021
Senate Democrats are insisting on pushing through a COVID relief bill, despite already having their sights set on impeaching President Trump. While Tuesday's trial was front and center, a Democrat-led House committee continued to draft legislation on Joe Biden's nearly $2 trillion measure.
Speaking at a press conference on Tuesday, Senate Majority Leader Chuck Schumer (D-N.Y.) claimed the impeachment trial would not "throw a wrench" into passing the stimulus package by mid-March.
The measure has faced criticism from the right for being one-sided, despite Schumer's claims that he welcomes GOP support on the relief bill.
"We are working when we can with our Republican colleagues to produce a big, bold piece of legislation that will help us deal with and get out of this awful, awful crisis," Schumer stated. "We look forward to working with Republican colleagues to make this COVID package a reality."
In a tweet on Monday, Senate Minority Leader Mitch McConnell (R-Ky.) blasted the relief bill, saying a proposal to increase the federal minimum wage would put 1.4 million Americans out of a job.
Democrats' so-called relief bill includes Sen. Sanders's minimum wage proposal that would kill 1.4M American jobs. This after the President killed many thousands of jobs with Keystone XL.

Killing jobs and destroying opportunity — that's their idea of pandemic relief?

— Leader McConnell (@LeaderMcConnell) February 8, 2021
McConnell said killing jobs and destroying opportunity is the Biden administration's idea of pandemic relief.