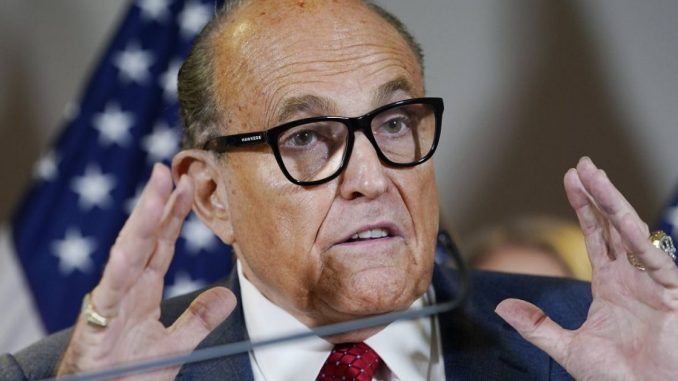 OAN Newsroom
UPDATED 11:16 AM PT – Friday, June 25, 2021
Rudy Giuliani, the former personal lawyer to President Trump, criticized a New York state appeals court decision to suspend his law license. On Thursday, a the court ruled Giuliani has made "false and misleading statements" regarding voter fraud while defending the 45th president in several swing states after the 2020 election.
While speaking to reporters, Giuliani questioned how the court asserted he lied if he has yet to receive an official hearing.
"If you wanna say I said something irresponsible, you gotta give me a chance to defend myself," he stated. "I can more than defend myself. I can show that everything I said was based on a witness. They have never bothered to check that."
In recent months, Giuliani presented sworn affidavits and mathematical evidence of rampant fraud in last year's presidential election. Giuliani went on to say the court's decision is unprecedented and his legal team will fight to get his license reinstated.
"I feel personally worried for the country…I believe that the real problem here is somebody's got to fix this double standard justice system, which is not America anymore," he stated. "This is a one-sided decision not based on evidence, based on newspapers, they haven't called a single witness. I can call 100 witnesses to support what I'm saying and I'm ready to do it."
In response to Giuliani's law license being revoked, President Trump released a statement calling him "the greatest mayor in the history of New York City" and "one of the greatest crime fighters our country has ever known." The 45th president went on to call the entire situation "nothing but a witch hunt."
Statement from President Trump: "Can you believe that New York wants to strip Rudy Giuliani, a great American Patriot, of his law license?"

— CaitlinSinclairTV (@CSinclairtv) June 24, 2021
In the meantime, the courts decision is temporary and Giuliani's license may be restored.