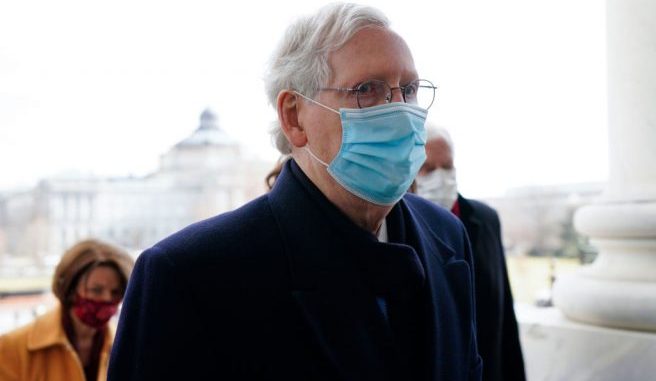 OAN Newsroom
UPDATED 2:40 PM PT – Thursday, January 21, 2021
Senate Minority Leader Mitch McConnell blasts the Biden administration, saying they took several big steps in the wrong direction on "day one."
Speaking on the Senate floor Thursday, McConnell said Biden's decision to re-enter the failed Paris Climate Accord would inflict major economic pain on American families.
He noted the U.S. has already been reducing carbon emissions while China and other countries have increased theirs. McConnell added rejoining the Paris Climate Accord would kill American jobs as our competitors pass us by.
He also slammed Biden for canceling the Keystone XL pipeline.
The failed Paris deal will hurt American families while China and Russia grow emissions.

The Keystone cancellation will kill union jobs and hurt U.S. energy security.

And a proposal to gut immigration enforcement and give blanket amnesty?

Rough "day one" for American workers.

— Leader McConnell (@LeaderMcConnell) January 21, 2021
"The day one priority was to kill thousands of American jobs, including union jobs [and] disappoint our strong ally Canada," McConnell stated. "And reverse some of our progress toward energy security."
The Senate Minority Leader then took aim at the Biden administration's immigration proposals. He said they would create another humanitarian crisis at our borders.
He also stated Biden should refocus his administration on creating good-paying American jobs and "not sacrifice our people's livelihood to liberal symbolism."