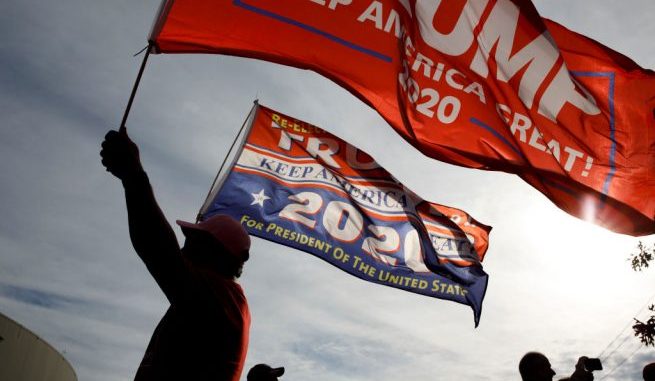 OAN Newsroom
UPDATED 3:46 PM PT – Monday, January 4, 2021
Thousands of supporters of President Trump arrived at the MAGA Victory Rally in Dalton, Georgia to denounce voter fraud and demand four more years of the Trump administration.
"Most Americans know what's really going on here with Raffensperger and the rest," Georgia voter Rose Dybel said. "They're all culpable, they're all complicit in the biggest fraud in American history."
Republican voters have said Dominion Voting Systems can not be trusted, along with Democrat election officials who tried to blatantly steal the election for Joe Biden.
MASSIVE CROWDS FOR PRESIDENT TRUMP'S HUGE TRUMP RALLY TONIGHT IN DALTON, GEORGIA! #MAGA @realDonaldTrump @WhiteHouse 🇺🇸🇺🇸🇺🇸🇺🇸🇺🇸🇺🇸 pic.twitter.com/VQQn8uQZHn

— Michael Solakiewicz (@michaelsolakiew) January 4, 2021
Citizens added that Democrat elites may think they are stupid, but they're not.
"I don't have 100 percent confidence that the results tomorrow are going to be accurate. In fact, we shouldn't even be having this vote if the election on November 3 was held properly," Georgia voter Jim Digiorgio said. "Along with stealing the presidential results, I think the the Senate would have ended up being a little bit different. I don't know that David Perdue would have even had to have an election tomorrow if things were done properly on November 3."
President Trump said federal authorities have secured enough evidence of election fraud, along with the "real 2020 results," to overturn the results on January 6.