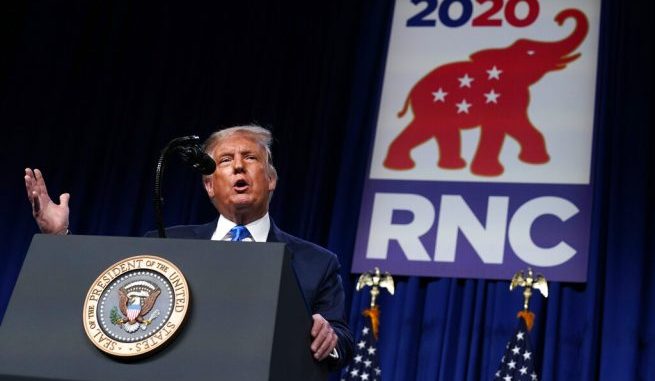 OAN Newsroom
UPDATED 2:10 PM PT – Tuesday, August 25, 2020
The first day of the 2020 Republican National Convention opened with a clear message: the Republican Party sees this year's election as a battle over the very fabric of American society.
The GOP's convention set off Monday after President Trump and Vice President Mike Pence were officially nominated to represent the party this November.
The day drew on a common theme, painting the upcoming election as a battle for the preservation of the country's historical principles.
"The Republican Party is the pro-America party. President Trump is the pro-American candidate. This election is about who can preserve the values, principles and institutions that make America great." – Jim Jordan, U.S. Representative (R-Ohio)
During last week's Democratic National Convention, Democrats sought to characterize the Trump administration as a deviation from traditional standards of governance. In contrast, speakers at the RNC highlighted the Democrats' veer leftwards and broadly described the party's presidential nominee Joe Biden as beholden to more extreme elements within the party.
Of particular note was Monday's focus on minority voters. The day's lineup even featured a member of the Democrat Party, who condemned Biden's relationship with Black voters.
"The Democratic Party does not want Black people to leave their mental plantation. We've been forced to be there for decades and generations, but I have news for Joe Biden: We are free. We are free people with free minds. I'm part of a large and growing segment of the Black community who are independent thinkers. We believe that Donald Trump is the president that America needs to lead us forward." – Vernon Jones, Georgia State Representative (D)
Former U.S. Ambassador to the UN Nikki Haley, who has often been floated as a potential future presidential candidate, repeated this theme by citing her own background as the child of immigrant, minority parents.
"In much of the Democratic Party, it's now fashionable to say that America is racist. That is a lie. America is not a racist country. This is personal for me. I am the proud daughter of Indian immigrants. We face discrimination and hardship, but my parents never gave in to grievance and hate. Now, America isn't perfect, but the principles we hold dear are perfect." – Nikki Haley, former U.S. Ambassador to the United Nations
Sen. Tim Scott (R-S.C.), who has been described by one prominent outlet as "the most powerful and prominent Black elected politician in America," referenced his own family's trajectory in his speech. He discussed his father's forced exit from school to work as a cotton farmer, his single mother's struggle to raise Scott and his own rise to Congress as examples of the continuing attainability of the American dream.
"Our family went from cotton to Congress in one lifetime, and that's why I believe the next American century can be better than the last. There are millions of families just like mine all across this nation, full of potential, seeking to live the American dream. I'm here tonight to tell you that supporting the Republican ticket gives you the best chance of making that dream a reality." – Tim Scott, U.S. Senator
First Lady Melania Trump and Secretary of State Mike Pompeo are among several speakers who are expected to take the stage on the second night of the Republican National Convention.
Tune in to One America News for live, uninterrupted coverage of the event, starting Tuesday night at 8 p.m. ET / 5 p.m. PT!