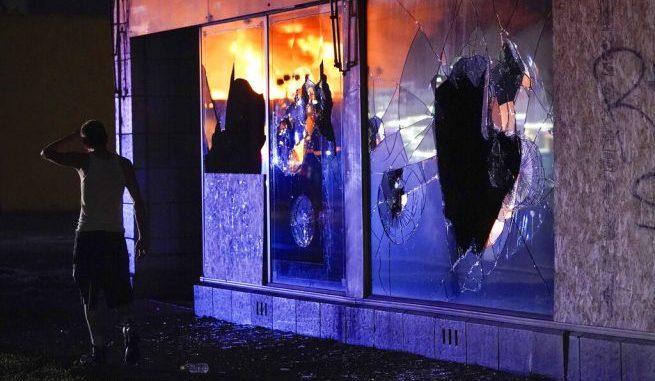 OAN Newsroom
UPDATED 3:05 PM PT – Tuesday, August 25, 2020
Riots and looting continued Tuesday in Wisconsin, leaving store owners devastated.
"Someone called last night at midnight to tell us that uptown was being destroyed. So, of course, we did spend the night with no sleep. Then we knew that there's nothing we could do, so we came and this is what we found." – Pat Oertle, Kenosha store owner
Oertle and her husband have owned a computer store in uptown Kenosha for 30 years. This week, it was looted and vandalized by rioters in the area.
"Oh my God, nobody deserves this, this accomplishes nothing," she added. "…This is not justice that they're looking for, this is destroying things."
The destruction followed the shooting of Jacob Blake.
On Monday, rioters set fire to cars and buildings in the city of Kenosha where Blake was shot, as well as in Wisconsin's capital of Madison.
Smashed windows and graffiti littered the state's capitol building after a night of clashes between rioters and members of Wisconsin's National Guard. The building remained closed throughout the day due to the damage.
Governor Tony Evers brought in what he called a "limited mobilization" of the guard on Monday to protect critical infrastructure.
On Tuesday, Wisconsin Sen. Ron Johnson called on Evers to deploy the full guard as a preemptive measure. According to Johnson, the governor has failed to "maintain order" in the wake of the unrest, which broke out in response to the shooting of Blake.
Authorities reportedly opened fire on Blake Sunday after he attempted to reach into his car during a confrontation with officers. Blake's father claimed his son is paralyzed from the waist down as the result of his injuries.
Their attorney, Ben Crump, has announced they're seeking justice.
"The family wants to see them (police) held accountable. They think that this was just an extreme use of excessive force. …Until we have transparency plus accountability, we can never bridge this divide of mistrust between communities of color and law enforcement." – Ben Crump, attorney for the Blake family
Blake is recovering in the hospital and is expected to survive.