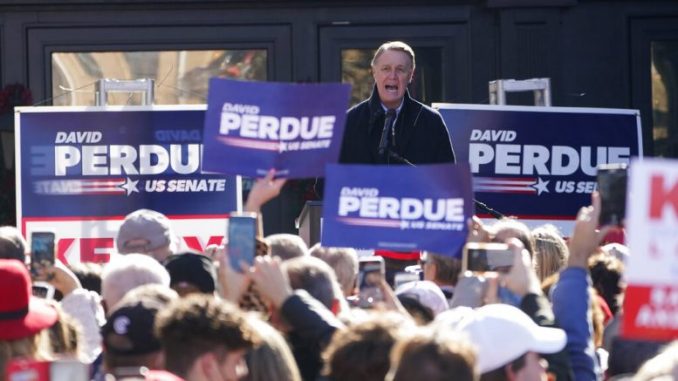 OAN Newsroom
UPDATED 11:18 AM PT – Monday, January 4, 2021
GOP Sen. David Perdue, a Georgia native, father and grandfather, has shown time and time again his ability to bounce back in the face of adversity.
As president and CEO of Reebok, Perdue was credited with rejuvenating the sneaker brand, which led to a contract with the National Football League.
As the CEO of Dollar General, he overhauled the company's marketing strategy while opening 2,600 new stores across the U.S. This gave Perdue a reputation as a "turnaround specialist" who helped to revive brands.
His repeated success took him to his 2016 run for the Senate, where he defeated the Democrat nominee by nearly eight points.
Perdue's taken strong stances on issues like the pandemic, where he said the safety and security of all Georgians is his number one focus. He's supported the phased reopening of the economy, allowing thousands of residents to return to work, and supported a commonsense plan to help teachers as well as students return to school.
The Republican lawmaker has rolled back regulations on Georgia's energy industry as well as community and regional banks. He has also secured billions of dollars in relief to small businesses through the Paycheck Protection Program.
The America that I believe in will beat this virus, reignite our economy, and create even more jobs. No radical socialist agenda can do that. #gapol #GAsen pic.twitter.com/ZvnaFfB0fy

— David Perdue (@Perduesenate) November 21, 2020
Perdue has supported protecting Americans with pre-existing conditions, while working on streamlining regulations to get life-saving drugs to market faster.
Additionally, he supports law and order while opposing efforts to defund the police by ensuring law enforcement have the resources they need to protect and serve.
This comes in stark comparison to his opponent, Jon Ossoff, who Perdue has called a "rubber stamp" for liberal wishes. Ossoff has supported defunding the police, packing the Supreme Court and overriding Georgia's "right to work" laws in favor of unions.
Perdue has also shown Ossoff has accepted money from a Chinese Communist Party-tied media company, whose CEO expressed opposition to pro-democracy protests in Hong Kong. This even led to a heated exchange between the two during a debate in late October.
Recent polls put Perdue at a 50-to-46 lead over Ossoff. If you want to contribute to Perdue's Senate re-election effort, head over to https://perduesenate.com/  and click on "contribute" in the upper right hand corner.
It's ALMOST Election Day in Georgia!

Make your voting plan now⬇️
https://t.co/pV7uclJ0Qf pic.twitter.com/z20RI4Tk2p

— GOP (@GOP) January 4, 2021