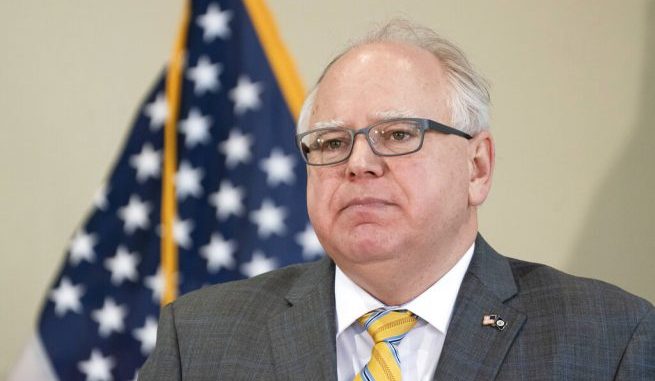 OAN Newsroom
UPDATED 3:35 PM PT — Friday, May 29, 2020
Minnesota Governor Tim Walz has implored his state to stop rioting and causing anarchy on the streets. On Friday, he said justice will be served fairly and swiftly for the death of George Floyd and issued a public apology for Thursday's arrest of a CNN reporter.
He said he has heard the anger and rage over Floyd's death, but stressed the violence is jeopardizing the safety of citizens and doesn't allow officials to address the problems at hand.
"The situation on the ground doesn't allow us, at this time, to tackle those issues," stated Walz. "The very assets in our communities, our libraries, businesses, those non-profits and government entities, our light rail system, are all shut down from this."
Minnesota Governor Tim Walz issued a public apology to CNN over the arrest of its reporter while reporting live on television. Meanwhile, prosecutors have charged the police officer with murder in the George Floyd case https://t.co/KIEWWOgDd6 pic.twitter.com/dZFjO4ZlUC

— Reuters (@Reuters) May 29, 2020
The governor went on to say it's time for the state to clean up their streets, restore order and follow the rule of law.
On Friday, Team Trump took to Twitter to call the situation "outrageous."
Mayor Frey & Gov Walz have completely lost control in Minneapolis in a catastrophic display of failed leadership.

The city is on fire & they outrageously arrested a CNN crew.@realDonaldTrump called in DOJ to investigate George Floyd's death.

Clear-eyed justice must be served! https://t.co/QvA6zvYGuu

— Team Trump (Text TRUMP to 88022) (@TeamTrump) May 29, 2020
The news crew was recording live outside a burning police precinct in the city when they were confronted by state troopers. A video of the incident showed CNN correspondent Omar Jimenez being handcuffed, while one of the crew members tried to diffuse the situation.
"Officer, he is with CNN and he's on the air right now," stated the crew member. "We told you before, we are with CNN."
Critics have questioned whether the arrest was racially motivated, as Jimenez is a person of color. Police reportedly permitted nearby white reporter Josh Campbell to continue working once he told them he worked for CNN.
Jimenez has said he is grateful the camera was there to capture the moment.
"What's happening isn't new, it's being filmed, and that speaks to the power of having something happen on camera," he explained. "You can have people speak up for you without you saying anything, and that gave me a little bit of comfort."
CNN's @OmarJimenez and his crew have been released from police custody. He recounts getting arrested and what happened while they were in custody. https://t.co/v3kMq77Oro pic.twitter.com/JoqmwlTc5i

— CNN (@CNN) May 29, 2020
The crew has reportedly been released and is continuing to report on the protests.