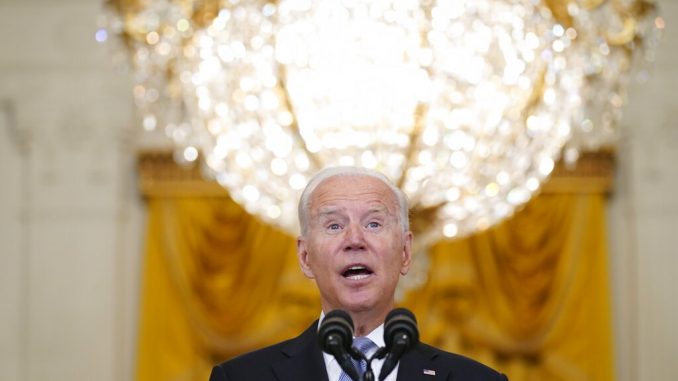 OAN Newsroom
UPDATED 1:39 PM PT – Wednesday, August 25, 2021
According to political analysts, the widespread criticism of Joe Biden's handling of the Afghanistan crisis could help Republicans in the midterms.  The U.S. troop withdrawal in a country now being run by the Taliban has caused both Democrats and Republicans to question Biden's effectiveness.
World allies have reportedly criticized Biden largely over concern that if they needed the U.S. at any given time, they would not have America's support. Those who once supported Biden and his leadership are now condemning his actions, which many say resulted in the Taliban takeover.
The European Union's Foreign Policy Chief, Josep Borrell, has deemed the situation a "catastrophe."
"We have to ask ourselves some difficult question, understand why this was possible," he stated. " Why what is happening, has happened."
Borrell criticized Biden for a comment surrounding the mission to the war torn country as Biden said the goal was never to "nation build," though Borrell says this is arguable.
Afghan war veteran: Americans will remember Biden failed https://t.co/rz2p0mU00Y @CSinclairtv #OANN

— One America News (@OANN) August 24, 2021
China has also reportedly condemned America as a "weak power" in light of what has occurred with China's state media suggesting that if the Chinese were to invade Taiwan, the U.S. would likely do nothing to stop it. This portrayal, along with the Chinese military reportedly conducting recent military exercises near Taiwan, is an effort to make the U.S. look "unreliable."
"So, you look at this exercise as you put it in the context of the Chinese allowing state media to issue reports basically saying that the U.S. would abandon Taiwan just as fast as it would abandon Afghanistan," explained Roger Baker, Senior Vice President of Strategic Analysis at Stratfor. "And the Chinese are able to try to use that to shape perception's in Taiwan that there is no path forward for independence and they ought to rethink their relationship with the mainland."
Despite these criticisms, Biden has stood by his decision stating the withdrawal was necessary though thousands of lives are at risk. Due to the crisis in Afghanistan and the coronavirus pandemic, Biden struggles to maintain approval among Americans. He dropped below 50 percent in a recent NBC poll.
As his ratings sink, reports say Democrats' ability to hold their slim majority in Congress could be swayed as they had largely aimed to use Biden's public approval to their advantage, which is reportedly at it's lowest point since he took office.