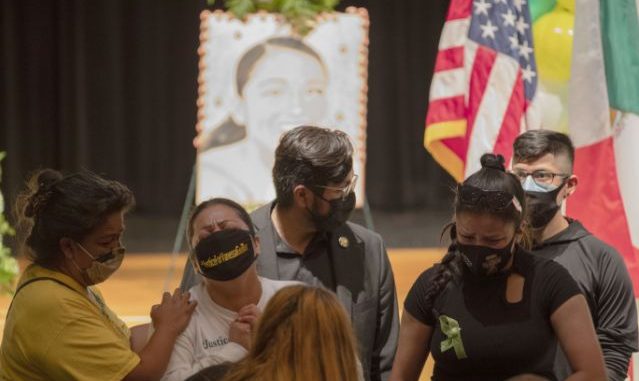 OAN Newsroom
UPDATED 8:04 AM PT – Monday, September 7, 2020
The U.S. Army's Fort Hood remains the focus of national headlines with more than two dozen soldier related deaths reported this year alone. The latest victim is 25-year-old Corlton Chee who collapsed during physical training and died days later in the hospital.
On Sunday, Chee's home government, the Navajo Nation, joined families' calls for a thorough investigation into the military base. His cause of death was not immediately clear, but Chee's older sister claimed her family received too many conflicting stories and would be awaiting an autopsy.
A week earlier, 23-year-old Elder Fernandes went missing. His body was found hanging from a tree 30-miles from Fort Hood. Military officials did not suspect foul play and a preliminary report ruled his death a suicide. However, Fernandes' family echoed concerns that details surrounding his death did not add up and cited that Fernandes reported being sexually assaulted before he died.
"Look what happens when you report sexual harassment in Fort Hood," stated Natalie Khawam, attorney for Fernandes family. "You get bullied, you get hazed, you get harassed, you turn up dead."
Sexual assault and violence have become a disturbing trend amongst many of the deaths this year with very few arrests being made.
In March, the body of 20-year-old Shelby Jones was found after he suffered a gunshot wound in south Killeen.
Weeks after, veteran Freddy Delacruz was one of three-people killed in an apartment shooting with few details released, but one suspect in custody.
A month later, Specialist Vanessa Guillen went missing. Her family claimed she was sexually assaulted by the man that killed her.
27-year-old Brandon Rosecrans was found on the side of the road in May. His Jeep was also found further away engulfed by flames.
In June, the skeletal remains 24-year-old Gregory Wendel-Morales were found in Killeen nearly 10-months after he went missing.
"I feel like it's every other day I get on my phone and there's another soldier missing, another soldier has died," said Kim Wedel, mother of Gregory.
In July, 26-year-old Mejhor Morta was found unresponsive near Still House Hollow Lake, which is a reservoir managed by Fort Worth officials. Additionally, Specialist Francisco Hernandez-Vargas was found early August in the same lake where he's believed to have drowned.
Texas lawmakers have condemned the army for allowing a so-called "secrecy culture" to evolve, where soldiers keep issues and problems to themselves out of fear of harming the Army's reputation.
Fort Hood officials decided on a new deputy commander who recently opened a separate investigation into the events that led up to Guillen's death.
Meanwhile, a committee led by five civilians will conduct an independent review into the base's handling of safety, sexual assault and other issues.