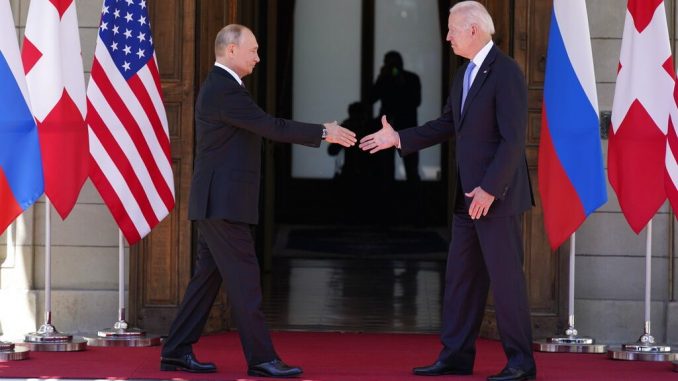 OAN Newsroom
UPDATED 7:45 PM PT – Wednesday, June 16, 2021
Joe Biden and Vladimir Putin avoided to take any strong stances following their summit in Geneva on Wednesday. Putin held a press conference after their meeting, which was shortly followed by Biden's.
One of the topics both covered was cybersecurity. The Russian leader denied his country was the largest cyber threat on the globe.
"According to U.S. sources, the majority of cyberattacks in the world are performed from U.S. cyberspace," he explained. "…Russia is not listed among the cyberspaces where the majority of cyberattacks come from."
Putin knows he doesn't have to concede anything when Biden is willing to seek a "stable and predictable" relationship at all costs.

— Senator Bill Hagerty (@SenatorHagerty) June 17, 2021
Although, Biden appeared to double down by warning of possible retaliation if Russia were to launch cyberattacks against American infrastructure.
"I talked about the proposition that certain critical infrastructures should be off limits to attack, period, by cyber or any other means," he asserted. "…16 specific entities, 16 defined as critical infrastructure under U.S. policy from the energy sector to our water systems."
Both politicians seemed to express the meeting went well. Biden described the meeting as positive, while Putin expressed there to be a general understanding between the interests of each country.
"I think that we speak the same language on the whole, but it doesn't mean that we should look into each other's souls, eyes and swear eternal love and friendship," he mentioned. "Not at all, we protect interests of our countries and our people and these relationships are pragmatic first of all."
Biden and Putin seemed to be testing the waters during their meet by discussing varying topics without coming to any solid agreements. What the two will accomplish moving forward is still up in the air, but both say this meeting sets the foundation for future discussions.