While I knew it was safe—or should be, anyway—the whole situation was still a bit intimidating. Moments before, when this stretch of almost-neon aquamarine was quiet, the tropical sun reflected off the surface of the blue Caribbean—those warm waves inviting me in for a swim. But now? It was a feeding frenzy.
With guides chumming the waters, suddenly the sea swirled with life—specifically, sharks and stingrays. And while my desire for a dip had been replaced by a dim sense of dread, I knew I needed to get in there. It was now or never—and never wasn't an acceptable option. Securing my snorkel and mask, I took a deep breath and slipped into the maelstrom below.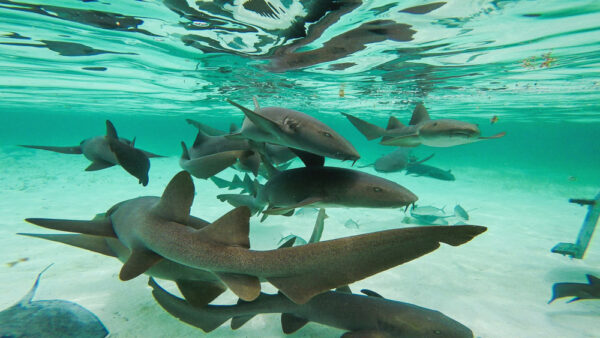 I was at Shark Ray Alley in Belize, a diminutive country—a little smaller even than the state of Vermont—and the only English-speaking nation in Central America. Since it reopened to visitors last October, guests have been back for months, experiencing Belize's sustainable charm and ecological wonders. Home to lush rainforest, big beaches, and the largest barrier reef in the Western Hemisphere, you can pick your pace from a wide variety of options, whether it be a quick swim with the wildlife, a satisfying climb to the top of a Mayan ruin, or an island where the official motto invites you to go slow.
The Rainforest
It wasn't my first visit—a few years prior, my adventures were primarily jungle-related. Heading inland from the international airport in Belize City, I arrived in Belmopan, one of the world's newest capital cities. Leaders purpose-built the town of just 16,000 in the safe middle portion of the country in 1970, after Hurricane Hattie destroyed roughly three-quarters of Belize City in 1961. I walked past the national assembly, designed to resemble a Mayan temple, and spent days working up a sweat, hiking through rainforests filled with birds—as well as jaguars and ocelots—then cooling off with a swim in a rushing river, or the cold, clear waters at St. Herman's Blue Hole National Park.
And I spent a day at Xunantunich. At one time, approximately 200,000 people lived in the surrounding valley, and the complex thrived with temples, palaces, and plazas, with a history dating back to the year 600 A.D. Buried for hundreds of years, archaeologists excavated the site between 1959 and 1960. Today it's a fine place to explore, with a famous burial chamber to visit and El Castillo—a 13-story temple that still stands as the second-tallest structure in the country—to climb. Up at the top, a cool breeze provides relief from the humidity, and you can see all the way to Guatemala.
The Coast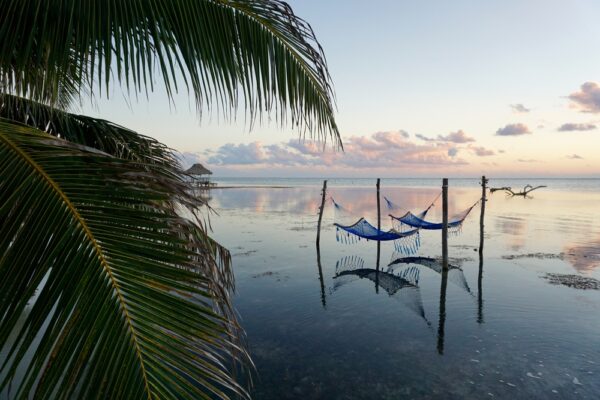 But my most recent trip was all about the coast. After landing, I hopped over to Ambergris Caye, the country's largest island at roughly 25 miles long, but just a mile wide. From there, boarding a sturdy catamaran, I took the day trip to the Alley, where I remained unharmed and un-eaten during my swim. Part of the Hol Chan Marine reserve, this was a spot where fishermen would historically clean their catches, training generations of meat-eaters to come and scoop up the scraps for their lunch. Hol Chan's name means "little channel" in Mayan, and the reserve covers about 2.7 square miles of ocean. Created in response to declining fish stocks in the 1980s, it now teems with marine life, including dolphins, manatees, moray eels, three types of sea turtles, and more than 160 species of fish.
And plenty of sharks—which, it turns out, are docile nurse sharks. While massive, growing up to 14 feet long, they're mostly harmless. Their name may actually come from the suckling sound they make when swooping down to eat bottom-dwelling food, like a baby nursing. And the rays? They aren't the kind that shoot barbs from their tails. I took a few unforgettable selfies with an underwater camera, the animals thrashing and stirring up a storm behind me as I smiled behind my snorkel.
'Go Slow'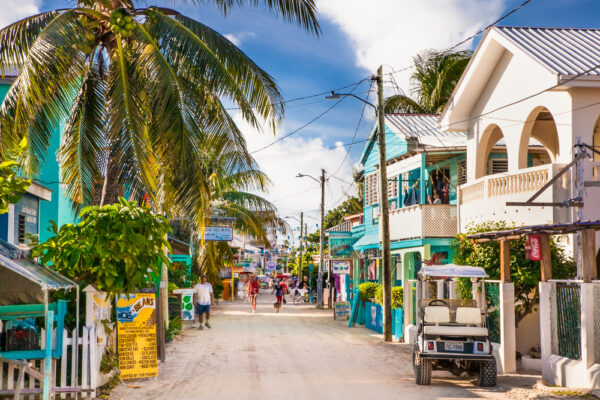 The next day, I packed my bags and took a water taxi to Caye Caulker, a crescent-shaped island where the pace is decidedly languid. On Caulker, the official motto—which you see everywhere, posted on signs and painted on walls—is Go Slow. And it's good advice. A paradise built for castaways, Caulker is little more than a big sandbar—five miles long—strung with bright wooden buildings, where cars and trucks are strictly prohibited. Since the 1960s, when it was a major stop for hippies on the "Gringo trail," it's been a place to primarily swing in a hammock, sit on the beach, and take it easy.
And that's exactly what I did. I snorkeled out on the reef, surrounded by clouds of fish—seemingly every color of the rainbow—from flashing triggerfish to banded butterflies. I walked to little restaurants and lingered on the patio. And I visited "the cut," a channel slashed through the island by Hurricane Hattie, now a calm waterway favored by kayakers and paddleboarders, the surface so placid that I spotted one man paddling with his dog snoozing on the back of the board.
Tempted to just stay forever, I reluctantly made my way—in a golf cart—to the island's almost comically tiny airport, boarding a flight to points south. After connecting in Belize City, the flight took most of the afternoon, a fascinating milk-run in a small plane all the way down the coast, landing on airstrips next to the beach in town after town. Finally, in Punta Gorda—not far from the Honduran border—I disembarked and made my way to a destination that highlighted the luscious, luxurious environment.
Belcampo Belize is set on a hillside, with open-air villas surrounded by howler monkeys swinging through the trees. I arrive in a safari jeep, the last two miles of rough road seeming to transport me into a whole different world. With a thousand-acre farm—part of a 12,000-acre private reserve—this rainforest empire, which has since been renamed Copal Tree Lodge, rambles from mountain to river to sea, offering pleasures both land-based and aquatic.
First, I toured the farm—the heart and soul of the operation. There, the head gardener noted that 70 percent of the food served in the lodge's two-story, open-air restaurant is grown or raised right there. Because everything was organic, I was able to nibble as we went, the gardener handed me bok choy, red radishes, and collard greens to taste. We walked past pigs and chickens, as well as cacao plants; the gardener spoke about his plants as if they were his children, noting the care he put into each one.
Then, I boarded a little covered boat at the lodge's dock, joining the head chef. Rolling down the Rio Grande River, we passed through mangroves, then out to the Caribbean. At various points, the chef actually drove in, emerging with crab, conch, and other delicious crustaceans. A little later, I affixed my snorkel and fins and went for a swim, while the boat's crew and she poured cold drinks and cooked up the catch on a grill set on the boat's stern.
It had been a good day. But as we steamed back upstream, I knew an even better evening awaited. Maybe a swim in the pool to shake off the salt, then a big meal—everything fresh from the garden below—the dense jungle canopy sitting under a million stars. And then a night in my hillside villa, the howler monkeys welcoming me home.
Toronto-based writer Tim Johnson is always traveling in search of the next great story. Having visited 140 countries across all seven continents, he's tracked lions on foot in Botswana, dug for dinosaur bones in Mongolia, and walked among a half-million penguins on South Georgia Island. He contributes to some of North America's largest publications, including CNN Travel, Bloomberg, and The Globe and Mail.