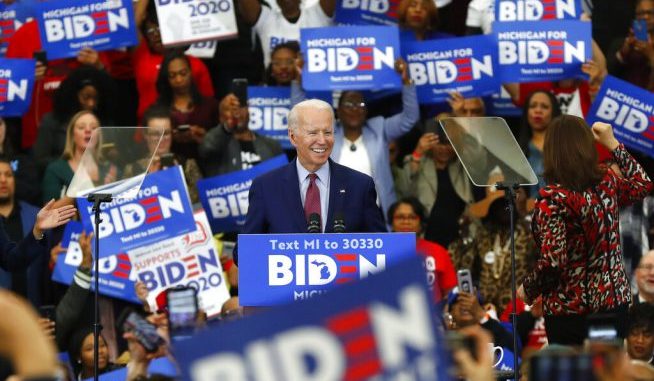 OAN Newsroom
UPDATED 10:08 AM PT — Saturday, May 2, 2020
According to a new poll, Democrats are not that excited to be voting for former Vice President Joe Biden in November. Emerson College's survey of 1,200 voters showed more than half of Democrats are "mildly excited" or "not that excited" to support Biden.
Voters cited his continued gaffes as a reason why they're hesitant to support him.
Biden really thought 600K Americans died of Coronavirus.. pic.twitter.com/pu2fQLPakT

— Benny (@bennyjohnson) May 1, 2020
Nearly two thirds of Republicans are either "very or extremely excited" to reelect President Trump, while 57 percent of all voters believe he will win the election. Several remained largely disappointed in Democrat leadership, due to their apparent double standard in handling Tara Reade's claim and allegations against other politicians.
President Trump has since highlighted his approval rating among Republicans and the nation as a whole. On Saturday, he announced over Twitter that he has a "96 percent approval rating in the Republican Party."
He also cited a new Gallup poll, which reportedly showed he now has the highest ever approval rating overall and that he's ahead of Biden.
96% Approval Rating in the Republican Party. Thank you! Also, just out, highest ever Approval Rating overall in the new Gallup Poll, and shows "Trump beating Sleepy Joe Biden."

— Donald J. Trump (@realDonaldTrump) May 2, 2020
Meanwhile, the Democratic Congressional Campaign Committee (DCCC) began ramping up its online campaigning efforts this week. The DCCC announced the launch of their Virtual Action Center on Friday, which will encourage volunteers to host and attend virtual campaign events near them.
"Right now in communities across America, we are building an army of digital organizers and connecting them directly with our campaigns," explained Executive Director Lucinda Guinn. "Democrats are going to need all hands on deck if we're going to protect and expand our House majority."
Democrats took control of the House in 2018 by 15 seats and are looking to maintain that strong hold.
MORE NEWS: President Trump: Tara Reade's Accusations 'Very Credible'