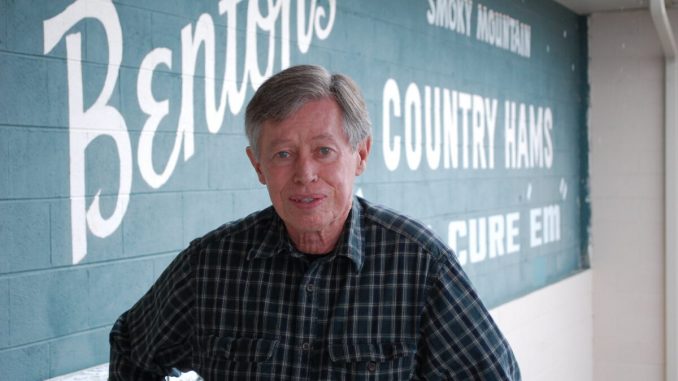 In a small roadside smokehouse in Madisonville, Tennessee, Allan Benton crafts what top chefs across the U.S. consider the gold standard of country ham and bacon. The potent, provocative smell of hickory smoke draws in any visitor—and anyone who tries the finished product.
Since Benton started the business 47 years ago, Benton's Smoky Mountain Country Hams has become a Southern legend. His dry-cured and smoked hams and thick-cut bacon, made by hand the way his grandparents did, can be found on the menus of leading chefs throughout the South and beyond, including David Chang and Tom Colicchio in New York and Chris Shepherd in Houston. The business has been featured in foodways exhibits at the Tennessee State Museum in Nashville and the Southern Food and Beverage Museum in New Orleans, and Benton was inducted into the James Beard Foundation's Who's Who of Food and Beverage in America in 2015.
But despite all the recognition, Benton still describes himself—in his thick Southern drawl—as "a country hillbilly just trying to make a great quality product."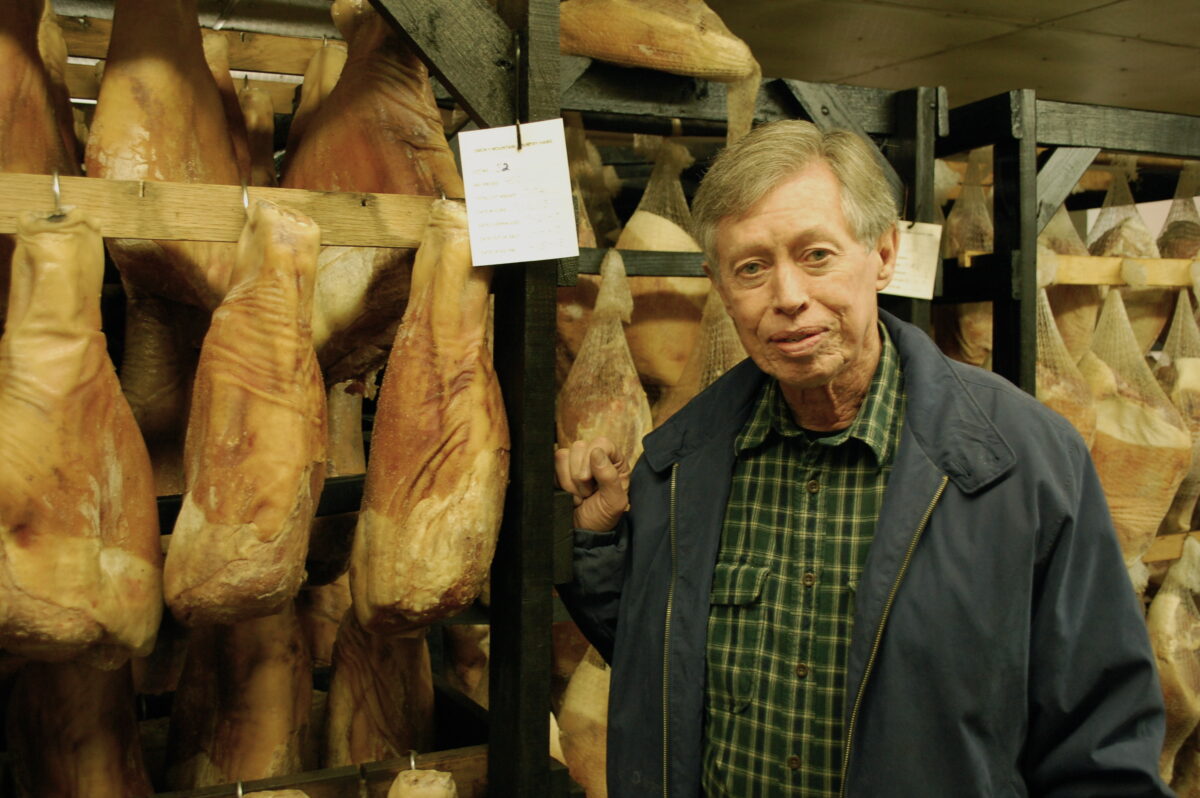 Rural Roots and a Family Recipe
Benton was born and raised in rural Scott County, Virginia. His family farmed and ate what they raised, including heritage-breed hogs that were allowed to naturally forage for their food, growing fat on acorns and other nuts in the Southern Appalachian forest. Benton's grandparents cured country hams in a log smokehouse behind their house.
After earning a master's in psychology from Middle Tennessee State University, Benton intended to work as a high school counselor. But when he saw the salary range, he decided owning his own business would provide more financial security.
In 1973, he approached Albert H. Hicks, a dairy farmer who had been curing and selling country hams out of a small building since 1947. Hicks, nearing retirement, agreed to lease his space to Benton, who started curing his own hams using the recipe he learned from his grandparents.
Benton researched everything he could about the curing process and running a business, and credits Hicks for being a helpful mentor. In 1978, Benton moved to his current location in Madisonville, off Highway 411 North.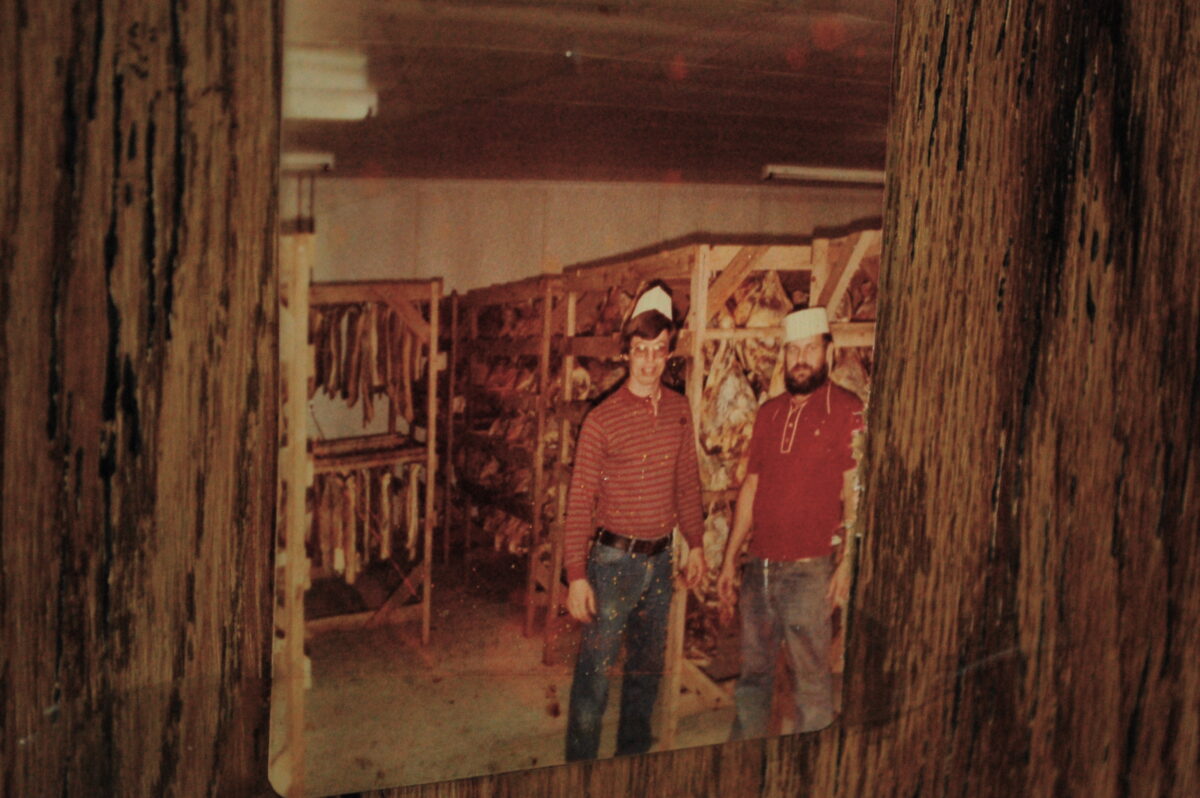 Building a Brand by Word of Mouth
Benton has never advertised, instead relying on word of mouth. But the business was by no means an overnight success.
The first 25 years were a struggle to keep the doors open, Benton said. Customers were used to buying mass-produced pork products, not heritage meats, but Benton stayed true to his mission focusing on quality products and his family recipe.
For years, the business stayed small and local—no e-commerce, not even a credit card machine. Even now, Benton's still only has around 20 employees.
In 2000, Benton's son, Darrell, now a physician in Knoxville, built his father a website while he was attending college. "No one will buy my dang products from a computer!" Benton told him. The day after the site launched, Benton's had seven orders. He was flabbergasted.
Benton's big break came when John Fleer, then executive chef at Blackberry Farm, a luxury inn nearby in Walland, Tennessee, started placing orders.
"I had been at Blackberry Farm for a short time in 1993 and was searching for locally-crafted food products. Benton's wasn't far from Blackberry Farm," shared Fleer, who now owns Rhubarb restaurant in Asheville, North Carolina. "I called up Allan Benton and asked for samples. He brought them over in an old blue pickup with a cab on the back."
Benton recalled, "Back when chef Fleer called me up, I had no idea what Blackberry Farm was. I thought it was just a country cafe. Was I ever amazed!"
"The coolest thing was inviting Allan and his wife, Sharon, to Blackberry Farm for the first time for dinner, and having him see us using his product in ways he would not have imagined," Fleer said. "One dish I remember he really liked [was] our wild sturgeon wrapped in his aged ham and seared."
As Blackberry Farm's reputation grew, it developed a cooking program with visiting guest chefs.
"We'd give all the guest chefs a care package of bacon and ham as a thank you gift," said Fleer. For some of these chefs, it was their first taste of Benton's products. Before long, they were appearing on menus outside of the South.
Benton's Signature Style
Benton's hams and bacon start with pasture-raised, antibiotic-free pork, sourced from family farms in the Midwest. He uses only heritage pork, older breeds like Berkshire, Duroc, and Red Wattle, which have more intramuscular fat, similar to European pigs such as Spain's renowned black Ibérico.
As Benton puts it, "you have to start with something good to make something good."
The fresh hams are coated with a simple rub of salt, brown sugar, and red and black pepper—Benton's family recipe—and a scant amount of sodium nitrite, to comply with federal food safety guidelines. They're then hung in a temperature-controlled room and left to dry-cure for anywhere from nine to 30 months, releasing moisture, intensifying in flavors, and taking on a rosy hue. To make his bacon, Benton coats slabs of pork belly with a rub of salt, pepper, and brown sugar by hand, then dry-cures them for an average of 30 days.
"Every product we make is like a barrel of whiskey that needs to be aged a certain amount of time," said Benton.
Finally, the cured pork belly and hams destined to be hickory-smoked are taken to the smokehouse behind the building for the final touch.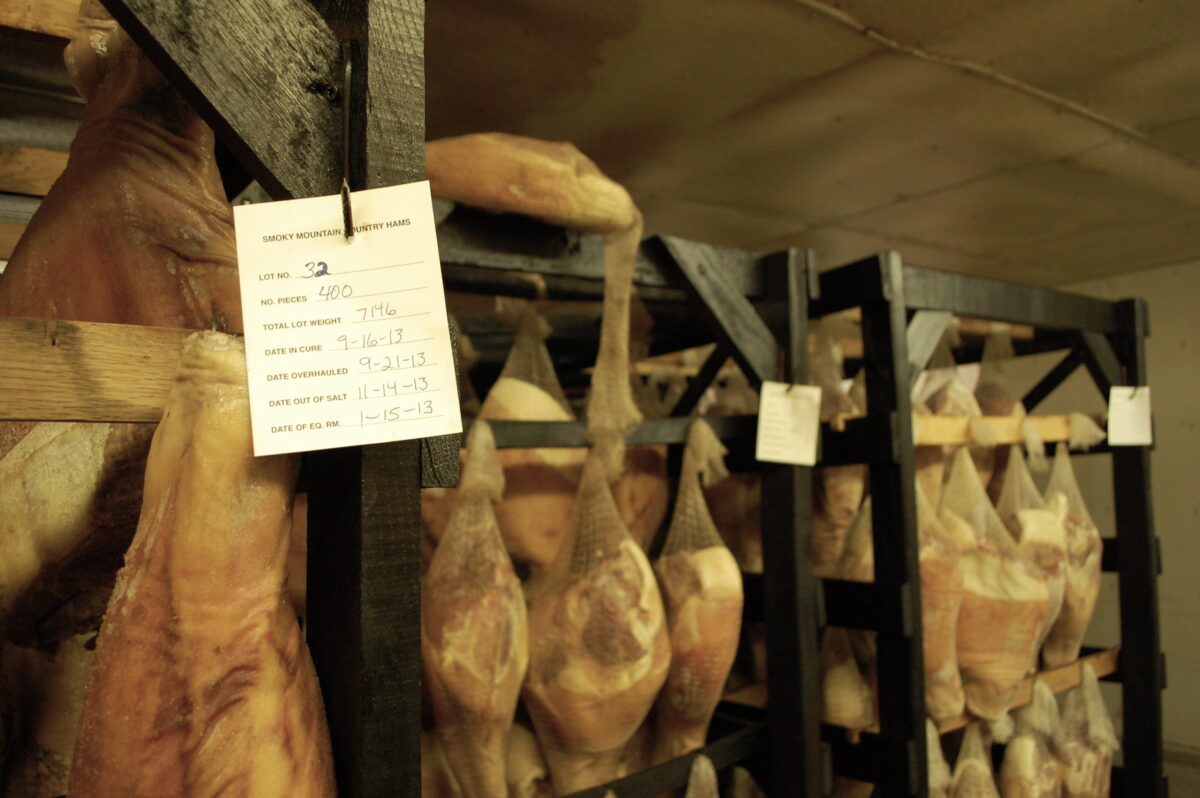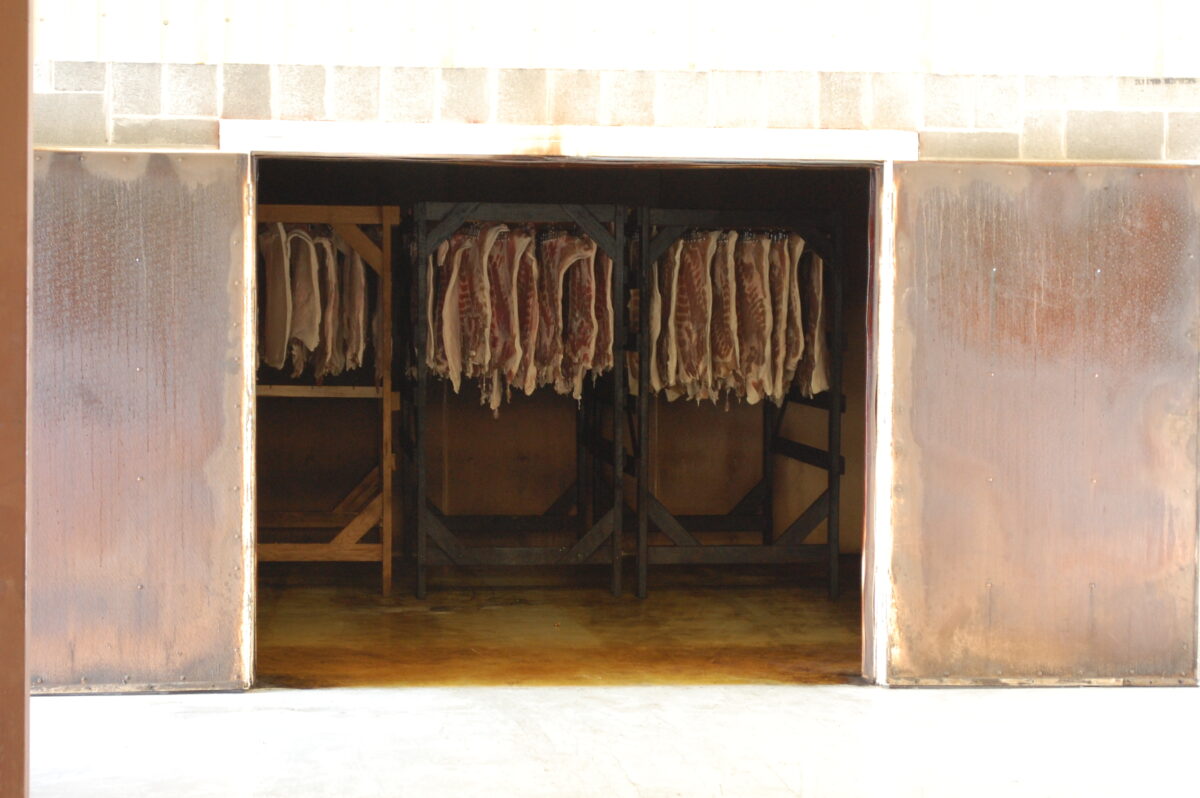 Chefs and home cooks alike rave about the results.
"When I first tasted Benton's bacon, I thought, 'Wow!' I'd never had anything like it before," said Chris Shepherd, chef and owner of Georgia James in Houston, Texas. "It gives a depth of flavor and smokiness that's unmatched—it's the smokiest bacon you'll ever eat."
"In addition to its nice smoke profile, Benton's bacon is a little thicker and chewier," said Chris Spear, chef and owner of Perfect Little Bites in Washington, D.C. As for the country ham? "I'd put Benton's up there with the finest European charcuterie," Spear said.
Weathering the Pandemic
Before the pandemic, Benton's cured between 17,000 and 18,000 hams a year in their 18,000-square-foot building. But with restaurants making up 75 percent of their business, Benton's main customer base all but disappeared when the COVID-19 pandemic hit. To make matters worse, packinghouses in the Midwest were closed, reducing his source for pork for months.
Since his cured hams take more than a year to produce, Benton had to quickly refocus to selling other meats, such as USDA choice beef tenderloin and steak, which he continues to offer.
"As grocery stores experienced shortages of meat on their shelves, we saw an increase in local foot traffic and e-commerce. We kept our prices low—$4 a pound versus $8 a pound at the grocery stores—to help our customers," said Benton.
Despite all his success, Benton remains unpretentious, and grateful to be in business after 47 years.
"I owe all of my success to my loyal customers, especially to the chefs who use my products on their menus," he said.
"He's a good human," said Shepherd. "The first time I met him, I was visiting Blackberry Farm Brewery in Tennessee, and Allan just walked in the door. I was starstruck. I told him, 'I've been wanting to meet you!' And he replied, 'I've been wanting to meet you, too!'"
Benton's Cooking Tips
How does Allan Benton cook his famous hams at home?
"This East Tennessee hillbilly just likes to slice up a piece of one-year-old ham and cook it in a greased skillet for about 12 seconds on each side, and serve it with biscuits and gravy," Benton said. "Overcooking the ham can result in a tougher, saltier slice."
"Our aged hams, more than 14 months old, are best served thinly sliced on a charcuterie plate with bread or crackers."
As for bacon, Benton prefers to cook it in a 350-degree oven for around 16 minutes. For those who prefer pan-frying, he shared advice from his wife, Sharon: "[She] says you have to play with your bacon, turning until crisp. You can't just leave it in the pan and walk away. Bacon should not be overcooked. You want it to bend a bit without breaking."
Benton's Smoky Mountain Country Hams
2603 Hwy. 411 North, Madisonville, Tenn.
423-442-5003
BentonsCountryHams2.com
Melanie Young writes about wine, food, travel, and health. She is the food editor for Santé Magazine, co-host of the weekly national radio show "The Connected Table LIVE!" and host of "Fearless Fabulous You!" both on iHeart.com (and other podcast platforms). Instagram@theconnectedtable Twitter@connectedtable