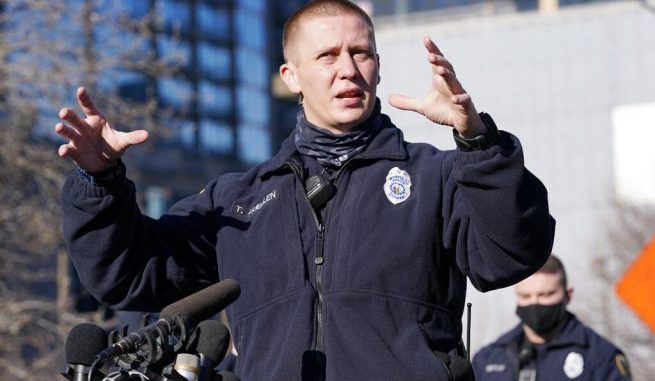 OAN Newsroom
UPDATED 2:10 PM PT – Sunday, December 27, 2020
Officers with the Nashville Police Department offered an emotional play by play of their evacuation efforts leading up to the Christmas day explosion.
In a press conference Sunday, Nashville Public Affairs Manager Don Aaron commended six officers who were on the scene that day. He credits them with saving countless lives.
Each officer said they initially responded to reports of shots fired, but found no evidence of a gunfight. They then went outside and heard the RV's announcement warning them to evacuate.
Several of the officers said they began to evacuate surrounding buildings. They found six or seven frightened families and lead them to safety.
Officer James Wells was one of the closest officers to the blast. He recalled hearing a voice he attributed to God that told him to check on a fellow officer. He said this move saved his life.
"I literally hear God tell me to turn around and go check on [Officer] Topping, who was by herself down on Broadway," Wells stated. "As I turn around–for me it felt like I only took three steps–then the music stopped and as I'm walking back towards Topping…I just see orange and I hear a loud 'boom!'"
As he walked away, the vehicle exploded and knocked Wells forward. He told himself to "stay on my feet and stay alive." Wells temporarily lost hearing in his left ear, but told the paramedics to check on others before treating him.
Further on in the presser, several officers recalled memories that weren't initially released to the public. For example, there was a camera attached to the RV and the song "Downtown" by Petula Clark was playing before the blast.
The officers expressed their gratitude to be alive in addition to their thankfulness for their fellow first responders. They also acknowledged the impact the event had on their entire unit.
Moving forward, officials said some road closures near the explosion site would be reopening.
Additionally, Mayor John Cooper feels optimistic about recovery efforts with the help of federal aid.
"Federal help will be a priority here, for rebuilding in Nashville," the Nashville Mayor stated. "It needs to be [as] our businesses have suffered a lot with coronavirus and this doesn't need to add to that difficulty."
The AT&T building, which was partially destroyed during the attack, is being restored. The city can soon expect all mobile communication to get back up and running as the company looks to reconnect the 911 system.