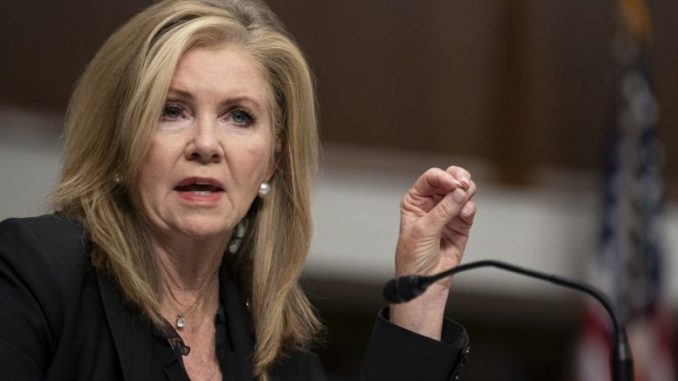 OAN Newsroom
UPDATED 6:37 AM PT – Thursday, December 24, 2020
Several Republicans have said they will support President Trump if he chooses to veto the coronavirus stimulus bill, while also criticizing the shift in monetary focus from Americans to the rest of the world.
During a campaign event in Georgia on Wednesday, Sen. Kelly Loeffler (R-Ga.) reacted to the controversy and asserted she would consider backing $2,000 checks. She suggested the money be repurposed from wasteful spending in the bill.
Meanwhile, Sen. Marsha Blackburn (R-Tenn.) said she voted against the bill because it did not provide targeted assistance to small businesses, working Americans and those who lost their jobs as a result of lockdowns. In a speech on the Senate floor, the Tennessee lawmaker called Democrats "out of touch" for adding funds into coronavirus relief bills that have zero connection with helping American people.
"People back home are very frustrated with them, they seem out of touch," stated the senator. "They seem to not care, they don't seem to be interested in taking care of people with needs that have been adversely impacted by COVID."
Blackburn suggested that instead of sending billions overseas, more money should go to Americans who need help. She added, a "one size fits all" approach in its current form is wasteful and unacceptable.
"Needing targeted relief…now the Democrats have talked about that, pushing off targeted relief," she continued. "They've had their opportunities to tackle this issue, they have chosen not to tackle this issue."
Once again, Democrats have put off passing the targeted relief that the American people need pic.twitter.com/wWdKWe3XoB

— Sen. Marsha Blackburn (@MarshaBlackburn) December 20, 2020
House Minority Leader Kevin McCarthy echoed Blackburn's concerns in a formal letter sent to House Republicans. He called on the GOP to rework the bill by removing overseas spending and putting the needs of Americans first.
Furthermore, McCarthy criticized far-left House Speaker Nancy Pelosi for using the American people as "leverage" to send billions of dollars overseas after allegedly blocking 40 relief packages that had been proposed by Republicans earlier this year.
Meanwhile, President Trump also called on lawmakers to remove unnecessary spending and, instead, focus on serving the needs of the American people. Specifically, he asserted the need to increase the stimulus checks to $2,000.
Democrats appear to be suffering from selective hearing. They've conveniently ignored @realDonaldTrump's call to reexamine tax dollars wasted overseas while so many Americans are struggling at home.

Republicans will act to put America first.

My full letter to @HouseGOP members: pic.twitter.com/wFTeMoLxYM

— Kevin McCarthy (@GOPLeader) December 24, 2020