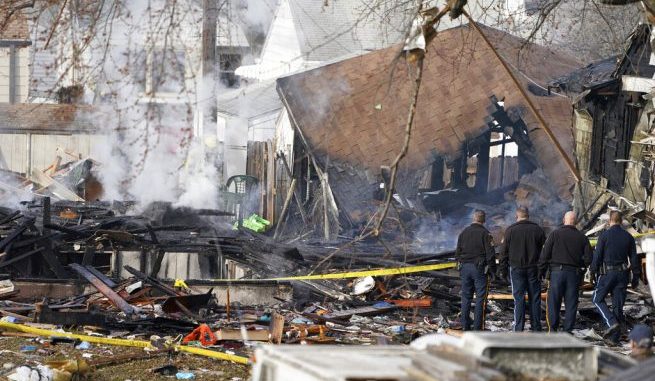 OAN Newsroom
UPDATED 1:40 PM PT – Wednesday, December 9, 2020
A house in Nebraska was leveled after an explosion that killed two people and left two others in critical condition. On Tuesday morning, firefighters were called to the south Omaha home to rescue anyone who may have been left inside and to douse the remaining flames.
Homeowner Teresa Toledo and her daughter Angela were both killed in the blast along with one of the family's dogs. According to reports, Teresa's grandson Alexander was taken to a burn unit in Kansas City. A fourth victim was also taken to a local hospital in critical condition.
Neighboring homes were badly damaged and residents said they felt the blast up to five blocks away.
Others said they witnessed debris, splinters of wood and personal effects falling from the sky.
@omaha_scanner pic.twitter.com/EkacXLALbz

— Jarvis Ferguson (@FunkyFreshJarvJ) December 8, 2020
"It was raining stuff, debris was just landing everywhere," Xavier Cantu, a nearby neighbor, stated. "And we were going to…see if we could find anybody, but then we saw the gas coming out of the ground."
Out of an abundance of caution, authorities had everyone in the immediate area evacuate.
"We did evacuate the whole block on both sides," Omaha Fire Department Battalion Chief Scott Fitzpatrick said. "Because we were unsure of the cause of the explosion."
Following the explosion, several neighbors sprang into action to help rescue one of the victims from the home.
"The neighborhood rescued him out," neighbor Shandra Harless said. "He was hurt and he had no skin."
She added that the victim's clothes were gone and it was difficult to identify exactly who he or she was.
"I don't know if it was grandma," Harless noted. "I don't know if it was his sister, but there was a lady across the street. It was bad. The house exploded."
HOUSE EXPLOSION: this is near 51st and Holmes. We know right now that 1 person is dead and 2 others are hurt and were taken to the hospital. @WOWT6News pic.twitter.com/cKJRZLc98L

— Leigh Waldman (@LeighWaldman) December 8, 2020
In the meantime, reports discussed a protection order issued just one day before the incident. Teresa petitioned for the order against her grandson because she feared he would start a fire in the house.
In the court document, Teresa claimed Alexander was doing mushrooms and meth. He had reportedly had prior encounters with police regarding the possession of drugs or drug paraphernalia in the past. His grandmother also said he told her he was hearing the voice of his late grandfather and was putting holes in the basement walls.
Investigators are working with Omaha police to find exactly what caused the explosion, but fire officials said they expect it will be a lengthy investigation.