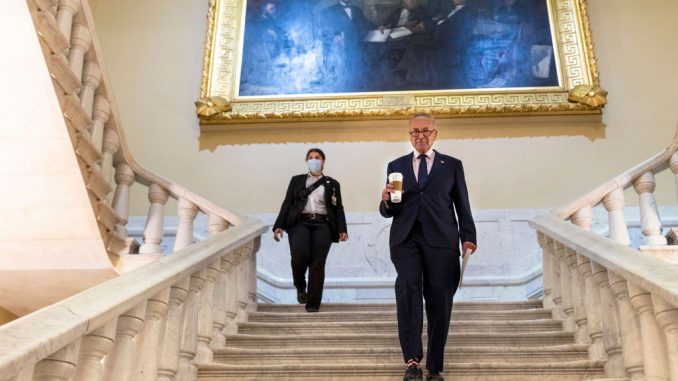 OAN Newsroom
UPDATED 1:41 PM PT – Wednesday, August 11, 2021
The Senate has agreed to move forward with the blueprint for the $3.5 trillion budget reconciliation package. The motion passed in a slim 50 to 49 vote early on Wednesday, after the Senate passed a $1 trillion bipartisan infrastructure package on Tuesday.
However, Republicans have sounded the alarm on the left's unbalanced spending and their work to push their agenda while they still hold the majority. In addition, Democrat Sens. Joe Manchin (W.Va.) and Kyrsten Sinema (Ariz.) have continued to warn their own party of the grave consequences such unbridled spending will ultimately have.
The resolution includes everything from making way for the Green New Deal, which GOP lawmakers have warned would crush the fossil fuel industry, eliminate millions of American jobs and America's energy independence, forcing the U.S. to rely on foreign adversaries.
Republicans also cautioned taxes on job creators will skyrocket costing jobs and wages, ultimately pushing jobs offshore. The budget would also accommodate Democrats' push toward socialized health care with conservative lawmakers suggesting it could move America toward a more European socialist model of health care, leading to longer wait times, fewer choices and lower quality care.
The American people need to listen carefully to what's in this $3.5 trillion reckless tax-and-spend spree—and try not to let your jaw hit the floor in the process. Just listen to what Democrats are promising to stuff into this reconciliation bill: pic.twitter.com/GQT3RpgpKq

— Senator Bill Hagerty (@SenatorHagerty) August 11, 2021
Furthermore, Republicans voiced concerns about the left's motivations, pointing to unions that would potentially benefit from the plan, which are those that fund Democrat campaigns. Additionally, they have warned against the package's high spending, saying it may be convenient for today's politicians, but could prove cumbersome for future generations.
Moving forward, the House is expected to take up a vote on the issue the week of Aug. 23, and Sen. Chuck Schumer (D-N.Y.) has set a Sept. 15 deadline for committees to finish writing portions of the budget resolution.