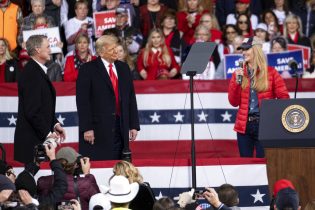 OAN Newsroom
UPDATED 1:39 PM PT – Wednesday, December 9, 2020
The GOP has filed a lawsuit in Georgia to ensure that election law is properly followed in the January runoff election. The suit was filed on Tuesday and includes allowing proper access for poll-watchers as well as creating greater restrictions, including ballot box surveillance.
The RNC stated they believe if nothing is done then serious problems, like those present in the presidential election, will reoccur in the Georgia runoff race.
During the November election, Republican poll-watchers were often not close enough to observe the counting of the votes or weren't allowed in the building at all. This made it difficult to ensure an unbiased count of the vote.
Additionally, Republicans in Georgia, along with other states, have called the unilateral expansion of absentee ballot infrastructure unconstitutional.
GOP members have argued the responsibility to decided a state's voting process and regulations rests with the legislature, not the judiciary or executive branch.
Republican voters in Georgia have grown concerned, saying that if nothing is changed to secure the voting process then the election will be stolen again.
While Georgia Republican Gov. Brain Kemp and Secretary of State Brad Raffensperger refuse to call a special session of the legislature, voters are losing faith their vote will be secure.
Despite many witnesses coming forward with voter fraud testimonies and the secretary of state admitting their was systemic fraud, many Republican lawmakers appear to remain complacent.
"You know, they've used the pandemic and the phony, fake ballots, the mail in ballots…they used that to sabotage a country," President Trump stated. "We're not gonna let it happen…as you know a major issue in this state (Georgia) is voter fraud."
RINOS @BrianKempGA, @GeoffDuncanGA, & Secretary of State Brad Raffensperger, will be solely responsible for the potential loss of our two GREAT Senators from Georgia, @sendavidperdue & @KLoeffler. Won't call a Special Session or check for Signature Verification! People are ANGRY!

— Donald J. Trump (@realDonaldTrump) December 8, 2020
RNC chairwoman Ronna McDaniel has vowed the Republican Party is going to fight for the security of the elections and the President. She encouraged voters to still go out and vote for Sen. Kelly Loeffler and Sen. David Perdue on January 5.
While the President has vehemently called for the investigation into voter fraud, he also encouraged Georgians to get out and vote.
The post RNC files lawsuit to uphold voting laws ahead of Ga. runoff elections first appeared on One America News Network.