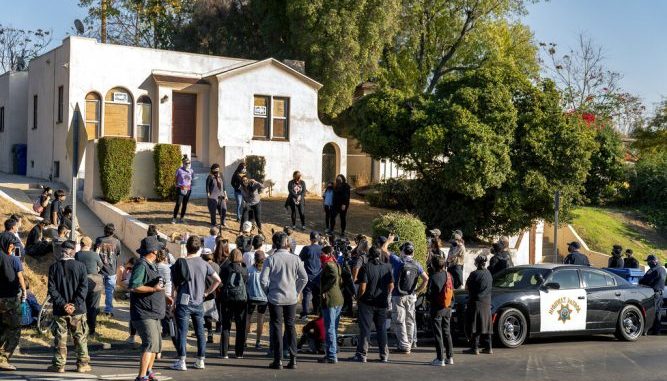 OAN Newsroom
UPDATED 1:45 PM PT – Friday, November 27, 2020
A group of activists who illegally occupied several vacant homes clashed with law enforcement during an attempted eviction.
According to reports, the radical activist group's plan to slander the California Highway Patrol backfired when their own video showed their aggressive behavior.
CHP retreating down Sheffield after a long standoff. pic.twitter.com/W27lkHn35c

— Brian Feinzimer (@bfeinzimer) November 26, 2020
On Thursday and Friday, the group 'Reclaim and Rebuild Our Community' posted a series of videos to Instagram. The videos were taken during a confrontation in Los Angeles.
The group claimed one video showed "stormtroopers getting ready to violently evict folks." However, the recording actually showed a single officer calmly responding as the group advanced on him.
The video was taken Wednesday night as CHP officers attempted to evict the protesters, who had occupied a group of houses owned by the state's transportation department, 'Caltrans.'
CHP was forced to declare an unlawful assembly, which went ignored by the mob. At least three people were detained.
NOW: In the East Los Angeles community of El Sereno, dozens of CHP officers, some in tactical gear, are evicting and arresting people who have opened up vacant homes owned by the state of CA (Caltrans). Currently a dispersal order is being given to a group of demonstors. pic.twitter.com/98GX8sXXg1

— Brian Feinzimer (@bfeinzimer) November 26, 2020
The group has been staging illegal 'live-ins' since March, despite the state's repeated requests to stop trespassing.
In a press release Thursday, the group touted their seizure of 15 homes in Los Angeles and called 'Caltrans' an "irresponsible slumlord" with a history of "environmental racism." The homes were purchased by the state decades ago for a freeway infrastructure project and slated for demolition.
A spokesperson for 'Caltrans' said the long-abandoned homes were "unsafe and uninhabitable for occupants." The spokesperson added CHP had to move into re-secure and board them up.