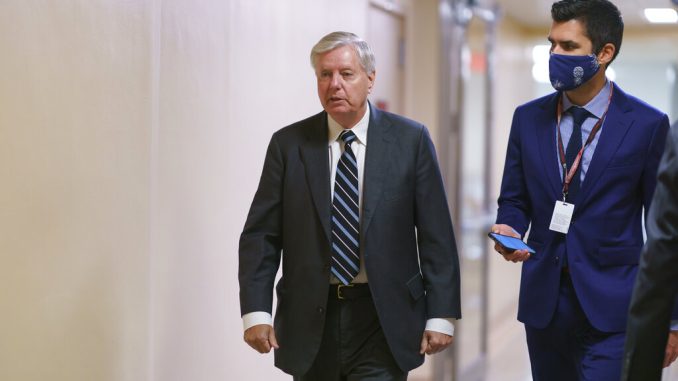 OAN Newsroom
UPDATED 6:43 AM PT – Friday, November 5, 2021
Republicans are calling out the Biden administration to clarify recent reports alleging White House plans to pay millions of dollars to illegal immigrants.
Sen. Lindsey Graham (R-S.C.) asserted that Joe Biden's scheme to pay illegal aliens $450,000 each is likely true despite recent denial by the White House. On Thursday, the senator told reporters Attorney General Merrick Garland must explain if the discussions of such payments took place.
Last month, the Wall Street Journal reported the Biden administration was considering paying illegal immigrants separated at the border in 2018 "reparations" of up to a million dollars per family. Graham went on to add, Biden may have lied about the existence of those plans.
Meanwhile, the ACLU maintains Biden may not have been fully briefed about the actions of his own Department of Justice. This assumption came after Biden recently called the plan "garbage" and said it's not going to happen. His remarks came at a press conference on Wednesday when he was confronted by a reporter on the matter.
Biden said it was "not true" that his administration is planning to give cash payments to illegal immigrants.

But a White House spokeswoman and his DHS Secretary CONFIRMED the plans TODAY.

Roll the tape! pic.twitter.com/oXucIYW1t2

— RNC Research (@RNCResearch) November 5, 2021
On the other hand, the ACLUS maintains that if Biden doesn't follow through with the alleged plan, he would be "abandoning a core campaign promise to do justice for the thousands of separated families."