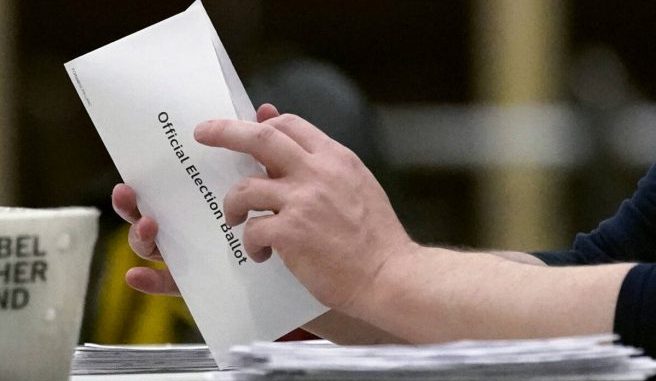 OAN Newsroom
UPDATED 8:00 AM PT – Monday, November 23, 2020
President Trump's campaign is quickly moving up their case against potential voter fraud in Pennsylvania. On Sunday, the campaign's legal team, which is headed by attorney Rudy Giuliani, submitted an appeal to the Third Circuit Court of Appeals.
The move came less than a day after Pennsylvania District Judge Matthew Brann dismissed the case. Giuliani and his team have been working tirelessly to bring forth evidence of more than 600,000 illegally cast ballots.
"The reason for the application and the reason to keep all these things together is precisely to avoid what the Democrats did in this election, which is to misuse the absentee ballot process and the mail-in ballot process in order to cheat," stated the Trump attorney.
District Judge Brann ruled that the Trump campaign didn't have enough evidence to overturn the election results. However, both President Trump and his legal team said they were not allowed to produce witnesses or evidence to the court.
Thanks Mark. It's all a continuation of the never ending Witch Hunt. Judge Brann, who would not even allow us to present our case or evidence, is a product of Senator Pat "No Tariffs" Toomey of Pennsylvania, no friend of mine, & Obama – No wonder. 900,000 Fraudulent Votes! https://t.co/17rk2KsUPs

— Donald J. Trump (@realDonaldTrump) November 22, 2020
The campaign stated they had 50 witnesses ready to testify who claim to have seen election officials disobey a law guaranteeing independent review of the ballots.
"This pattern repeats itself in a number of states, almost exactly the same pattern, which to any experienced investigator prosecutor would suggest that there was a plan from a centralized place to execute these various acts of voter fraud," Giuliani explained.
Although disagreeing with the opinion, Giuliani commended Brann for making a swift decision. He pointed out it expedites the case to the Supreme Court. The attorney said he hopes the appellate court will rule quickly. The campaign is optimistic their case will make its way to the nation's highest court.