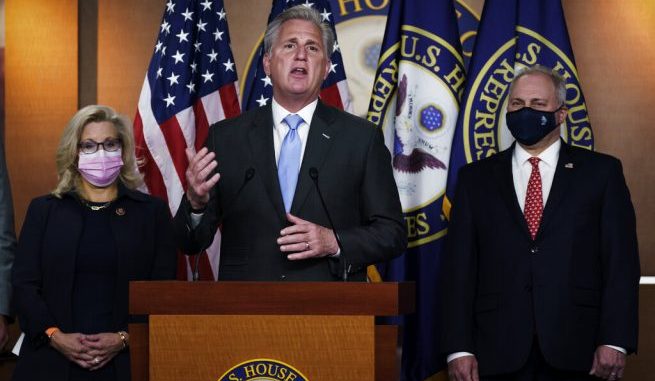 OAN Newsroom
UPDATED 6:41 AM PT – Monday, November 23, 2020
GOP victories in the lower chamber could suggest voter gains within the party as disagreements among Democrats has led to a near loss of the House majority. House Republican leader Kevin McCarthy said Democrats have failed to cement their socialist agenda in Congress.
In an interview Sunday, he noted the Republican Party made major gains in the House in this year's elections by flipping 12 seats from the Democrats. The GOP leader said this means the American people are rejecting socialist ideas proposed by the Democrats.
While centrist Democrats reportedly dismissed President Trump, they did not agree with policies on raising taxes, ending fracking or opening borders. Additionally, national protests and political backing for a defunding of police departments have also unsettled many voters.
A week before the election House Speaker Nancy Pelosi cited expert predictions that Democrats would gain five-to-15 seats in the lower chamber. As the election went on and counting continued, however, Democrats appeared to have lost more seats than they expected.
McCarthy said the result is due to poor decisions among Democrat leadership over the last two years.
"Everybody predicted that the Republicans would lose 15-to-20 seats, not one incumbent lost," he stated. "On the Democrat side, more than a dozen lost…much of that could be caused by Nancy Pelosi holding up any COVID relief bill, simply for playing politics."
In an op-ed Friday, former Speaker of the House Newt Gingrich predicted Democrats will lose control of the House in 2022. He noted the Cook Political Report predicted 27 seats to be a "toss-up" and Republicans won every single one.
Gingrich argued that historical precedent shows the 2022 House elections will prove to be even more disastrous for Democrats and Pelosi will not maintain her position. McCarthy agreed, believing Republicans will have an advantage in Congress regardless going into 2021.
"Republicans are always focused on putting the people first before politics and we will continue to do that work," he stated. "In this next Congress we might not be able to schedule the floor, but we are going to run the floor."
Speaker Pelosi's approach—that "nothing" is better than "something"—is wrong, and the American people are paying the price.

I invite Democrats to join Republicans in re-opening the Paycheck Protection Program. $138 billion in worker relief is just sitting there!

— Kevin McCarthy (@GOPLeader) November 21, 2020
Meanwhile, he cited a letter signed by 23 Democrats calling for a discharge petition should Pelosi fail to come to an agreement with Republicans. This mean both Democrat and Republican lawmakers could move forward with coronavirus relief for Americans without the Speaker.