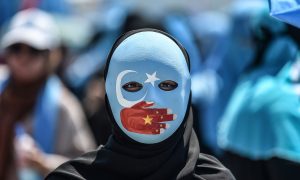 The New Zealand parliament on Wednesday unanimously passed a motion that declared China was committing severe human rights abuses on the Uyghurs in Xinjiang.
Politicians in parliament declared they were "gravely concerned about the severe human rights abuses taking place against Uyghurs and other ethnic and religious minorities in the Xinjiang Uyghur Autonomous Region." They called on the Ardern government to "work with all relevant instruments of international law to bring these abuses to an end."
"The New Zealand Government, in concert with others, will continue to call upon China in the strongest terms … We call on China to uphold its human rights obligations," Foreign Minister Nanaia Mahuta said in a speech to parliament.
The conservative opposition ACT Party, who brought the motion to Parliament, accused the Labour Party of working to water down the original motion, which said China was committing genocide against the Uyghurs.
Act Deputy Leader Brooke van Velden told news outlet Stuff.co.nz that the Labour Ardern government said they would not support the motion unless the term "genocide" was removed.
"It's a sad state of affairs that we've needed to soften our language to debate hard issues," van Veldon said. "But what I have done is to ensure that our Parliament is able to talk, debate, and discuss the human rights abuses of the Uyghur people in China."
Van Veldon also called out the Labour party for its weakness.
"We know that a genocide is taking place. The evidence is voluminous, from multiple sources and credible," she said. "Here in New Zealand, other parties, who had the power of veto, would not allow this debate to proceed if the motion mentioned genocide."
New Zealand China expert Prof. Anne Marie Brady also commented on the watering down of the quote. In a post on Twitter, Brady said that it would be unimaginable for New Zealand to consider letting the United States dictated to the government what it could and count not debate.
She said it was "sickening to see how our political representative let pressure from the [Chinese Communist Party] CCP stop them from speaking up on the Uyghur genocide."
Imagine if the US government dictated to @NZParliament MPs what it could & couldn't debate? New Zealanders would not stand for it

Sickening to see how our political representatives let pressure from the CCP stop them from speaking up on #UyghurGenocide https://t.co/TXzpU52lF7

— Professor Anne-Marie Brady (@Anne_MarieBrady) May 4, 2021
Both opposition and government politicians have said they are pleased with the parliamentary statement.
Prime Minister Jacinda Arden said she believed that the fact that the motion passed with the support of all elected parliamentarians made it an effective message.
"We have a statement that is strong, and that is clear, and that has the support of parliament," Ardern said.
"I'm pleased that unlike many other countries, where they've been abstentions from motions, where government parties, in particular, have not voted in favour, we have a statement that is strong, and that is clear," she said on Wednesday.
There was discussion in parliament that the use of the term "genocide" was politicising the crime.
Foreign Minister Mahuta said that the government was very aware that there was a potential issue in the motion but noted that although the NZ government had not formally designated the situation as genocide, that did not mean they were not concerned.
"This is not due to a lack of concern," Mahuta said. "Genocide is the gravest of international crimes, and a formal legal determination should only be reached following a rigorous assessment on the basis of international law."
Worry Over Chinese Backlash
The criticism of the Labour government comes after political leaders from Labour and the Opposition National Party noted that there was a potential for NZ's trade relationship to be hit if it made a declaration of genocide.
"Clearly, the Chinese government wouldn't like something like that. I have no doubt it would have some impact [with trade]. That's hardly rocket science," Trade Minister Damien O'Connor said, reported the Australian Associated Press.
Likewise, opposition National Party Trade Spokesman Todd Muller said that New Zealand had strong commercial and cultural connections with China, reported Stuff.co.nz.
"It is the depth of those personal relationships that will guide us through this difficult conversation because the conversation will be difficult," he said.
He noted that he understood that Beijing would view the issue as a matter for its own consideration. But he said, "We share one planet."
"This Parliament and the five million people we represent believe that it is a basic human right for people to feel safe in their homes, to pray to whom they wish to pray to, to hug who they love, and to identify with a cultural tradition that best reflects their whakapapa [genealogy]," Muller said.