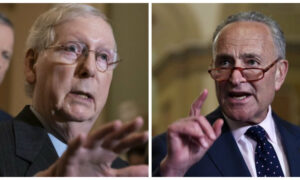 Republican and Democratic lawmakers have not come to a compromise on an infrastructure deal, according to one GOP senator, who added that Democrats have remained focused on providing unions billions of dollars and other organizations.
Sen. Bill Cassidy (R-La.) told Fox News that some of the funding proposed by Democrats has little to do with traditional infrastructure such as bridges, roads, pipes, and electrical lines. Since President Joe Biden unveiled the multi-trillion-dollar bill, the White House and Democrats have provided shifting explanations for the definition of the term "infrastructure."
"The amount of spending for roads and bridges is so slow, and split over 50 states over five years. You're not getting your bridge," Cassidy said in a Sunday interview. "If you want to fix roads and bridges, come where Republicans already are," Cassidy said, adding, "If you're talking about spending hundreds of billions of dollars on public-sector unions, we're far apart."
Also Sunday, Biden's Council of Economic Advisers chair, Cecilia Rouse, told Fox that the funding is needed because "we are still 7 or 8 million jobs down from last year" and "in the last 40 years, we've been disinvesting in our economy."
"The strategy here is to really create a partnership between the public sector and the private sector," Rouse said.
Republicans and some Democrats like Sen. Joe Manchin (D-W.Va.) have taken umbrage with several Biden infrastructure plan proposals, including reversing corporate taxes from 21 percent back to 28 percent—as it was before the Republican-backed tax cuts in 2017.
Manchin, separately, praised Republicans' nearly $600 billion infrastructure counteroffer to Biden's $2.2 trillion proposal, telling CNN it is "a good start. It really is, and I'm glad they did it."
"We just have to look to see if we have gotten everything in there that we need," he added. "And we will be working on that together. So, I'm very, very pleased with that. And this is the way we start negotiations. And they have put their best foot forward, but it's a starting point. … And it's not the finishing line."
For Democrats, Manchin's vote is considered essential in the 50-50 Senate.
The Senate has shown some appetite for bipartisanship on infrastructure, however. Last week, the upper chamber passed a related bill, the $35 billion Drinking Water and Wastewater Infrastructure Act, to upgrade leaky pipes and facilities.
"We both expressed our mutual desire to work together and find common ground," said Sen. Shelley Moore Capito (R-W.Va.), in a statement, saying she spoke with Biden over the phone about the bill.