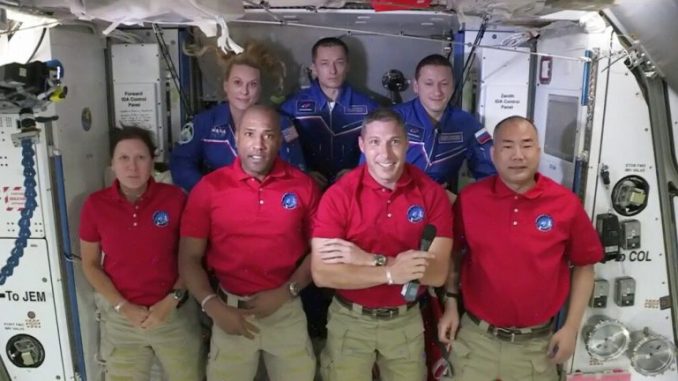 OAN Newsroom
UPDATED 12:30 PM PT – Tuesday, November 17, 2020
Aerospace company SpaceX is breaking records for space travel after partnering with NASA in order to send four astronauts to the International Space Station (ISS).
The SpaceX Crew Dragon spacecraft docked onto the ISS around 11 p.m. Eastern Time on Monday after making the 27-hour journey from the Kennedy Space Center in Florida. This marks the first time the Space Agency has used a commercial spacecraft to send astronauts to the ISS.
The hatches are open and NASA's @SpaceX Crew-1 astronauts Shannon Walker, @Astro_Soichi, @AstroVicGlover, and @Astro_illini are the newest residents aboard the @Space_Station. Welcome aboard! pic.twitter.com/WYwC7jRVQk

— NASA (@NASA) November 17, 2020
While joining the crew members aboard the Space Station, crew leader Mike Hopkins shared about the group's experience leaving the Earth's atmosphere.
"It's been an incredible journey and it's really amazing that this is marking the start of operational crew rotation missions to the International Space Station from the Florida coast," he stated. "It was an amazing ride, I can't tell you how excited we were when that rocket lifted off the pad and then the last 27-hours have gone really smooth, actually."
At the launch on Sunday night, Vice President Mike Pence made an appearance to show the White Houses's support. He stated that the U.S. has "renewed its commitment to lead in space exploration."
The launch of the Resilience Spacecraft is the culmination of four years of renewed leadership in Space. It's a tribute to the courage of our astronauts, the ingenuity of the men and women of @NASA and @SpaceX, and the unrelenting vision of President @realDonaldTrump!

— Mike Pence (@Mike_Pence) November 16, 2020