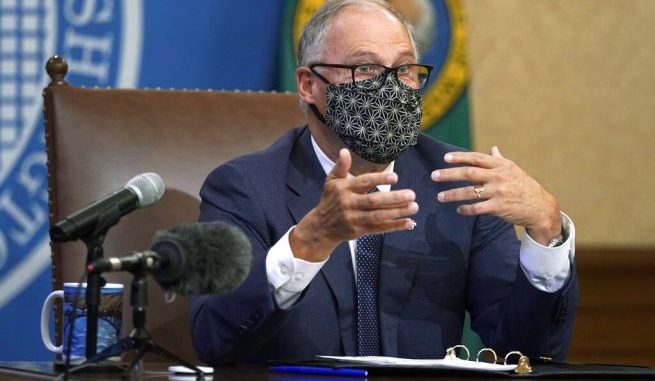 OAN Newsroom
UPDATED 10:39 AM PT – Monday, November 16, 2020
Washington State has imposed a new round of coronavirus restrictions. Gov. Jay Inslee (D) made that announcement during a press conference Monday.
Under the new rules, grocery and retail stores will have to limit in-door shopping while gyms, restaurants and entertainment centers must close in-door services altogether.
New statewide #COVID19 measures go into effect today to protect our community and ensure our health care system can continue providing excellent care.

We must act now to save lives and prevent a further spike in cases in Washington state. Read more from @GovInslee: https://t.co/EA0nI4gHUw

— Rep. Adam Smith (@RepAdamSmith) November 16, 2020
Meanwhile, business owners are concerned over the move as winter will hinder their ability to offer outdoor dining and services. However, Inslee said the announcement is in anticipation of a new wave of coronavirus infections.
"We acted early…we also had the benefit…we were heading to summer where people could be outside more, but now we're heading inside and we're heading into the virus's home arena," stated the governor. "This is where the virus gets us, inside, where we're heading during the winter."
The new coronavirus restrictions are set to stay in place through December 14.