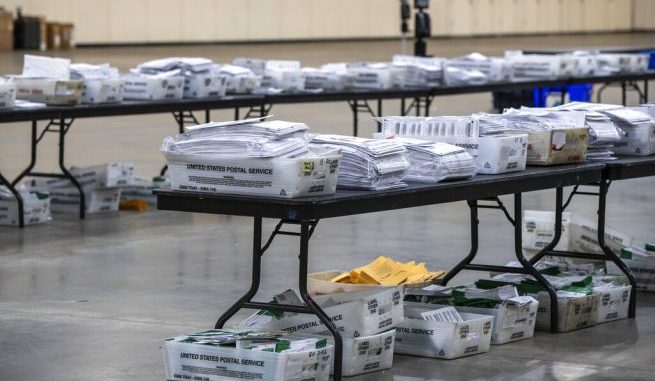 OAN Newsroom
UPDATED 7:16 AM PT – Wednesday, November 11, 2020
The Trump campaign is pursuing litigation in key swing states as allegations of voter fraud continue to pop up across the country.
In a conference call Tuesday, Trump campaign attorney Matt Morgan told reporters it filed a lawsuit to stop the state of Michigan from certifying its results until it can be verified that votes were cast lawfully.
This came after Shiawassee County polls suddenly showed Democrat nominee Joe Biden having a 200,000 point lead over President Trump. Officials later attributed that to a "typo."
There is only one party in America that opposes voter ID; one party in America that opposes verifying signatures, citizenship, residency, eligibility," said White House Press Secretary Kayleigh McEnany. "There is only one party in America trying to keep observers out of the count room and that party, my friend, is the Democrat Party."
McEnany recently went on air to say she had 234 pages of sworn affidavits alleging election irregularities in Wayne County alone. She said officials reported several ballots, including one batch where 60 percent had the same signature. Additionally, another 35 ballots had no voter record yet were counted anyway.
Press Secretary Kayleigh McEnany and RNC's Ronna McDaniel appear on Sean Hannity's show one day after Fox News cut away from their briefing.

McEnany holds up what she says is 234 pages of sworn affidavits of voter fraud claims from Wayne County, MI:pic.twitter.com/bGi6AZLjMJ

— Alex Salvi (@alexsalvinews) November 11, 2020
Meanwhile in Erie, Pennsylvania, U.S. Postal Service (USPS) whistleblower Richard Hopkins is fighting against federal agents and the mainstream media to maintain his allegations that illegal backdated postmarks were added to some late mail-in ballots.
Hopkins came forward only to have USPS Inspector General Russell Strasser try to bully him into saying his story was fabricated. On top of that, the Washington Post published an article stating that Hopkins had officially recanted his claims.
Richard Hopkins, the Erie, Pennsylvania Postal Employee blasts the @washingtonpost for publishing a fake recant story that has since gone viral. Richard says we'll learn more tomorrow. To be continued.#RichardHopkins #EriePA #StopTheSteal pic.twitter.com/U52BJ7CZYK

— Secretary of State-Select (@AbrahamLopezNJ) November 11, 2020
President Trump later took to Twitter to praise Hopkins while calling him a "brave patriot."
Since election night, the Trump campaign has filed lawsuits in Pennsylvania, Michigan, Nevada and Georgia with several still pending.