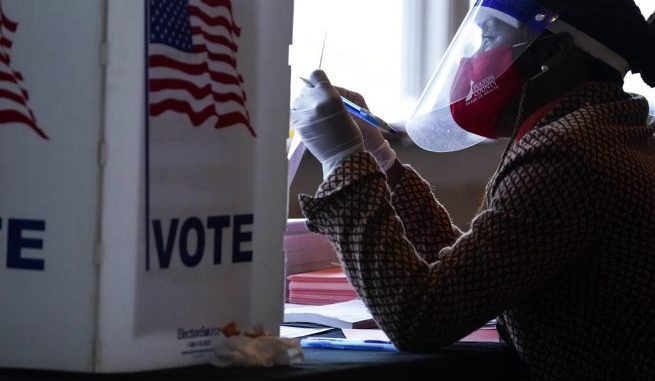 OAN Newsroom
UPDATED 2:07 AM PT – Monday, November 9, 2020
Investigations are underway in key battleground states after widespread allegations of voter irregularities.
In Georgia, where the race has been too close to call through the weekend, congressman Doug Collins is leading the recount after claims of ballot dumping and a lack of transparency with the original tabulation. Two counties, Fulton and Gwinnett, reported technical issues during counting, which led officials to question the veracity of the unofficial tally.
Another technical issue occurred in Antrim County, Michigan. Election officials wrongly gave Joe Biden a 3,000 vote lead, marking an incorrect tally of 20 percent of the county's entire electorate. A later recount corrected the tally and put President Trump ahead by 2,500 votes.
Meanwhile on Sunday, the President's team said Nevada had at least 200,000 votes that were not signature matched by both a machine and a human being as required by law. Additionally, state officials were notified of two cases were ballots were allegedly cast by residents who were deceased at the time of the election.
On Saturday, the Registrar of Voters for Nevada's Clark County, Joe Gloria, said he had begun logging reports in preparation for a full investigation. Gloria could not confirm whether election officials cross-referenced active voter lists with lists of deceased voters from the Social Security Administration.
The two isolated cases involve improperly filled ballots with one appearing to be cast by a family member. Clark County has been at the center of controversy over the last week after Nevada's secretary of state filed a lawsuit over voting irregularities in the county.
#BREAKING: Nevada officials investigating two cases of deceased voters casting ballots in Clark County, the I-Team confirms. One ballot appears to have been cast by a family member. The other remains under investigation, but deceased voter's signature matched. #8NN #NVelection

— David Charns (@davidcharns) November 9, 2020
When the Associated Press called the election in Nevada for Joe Biden, the President reportedly trailed Biden by 11,787 votes. This is less than a percentage of voters in the Silver State.
Investigations in both states are ongoing.