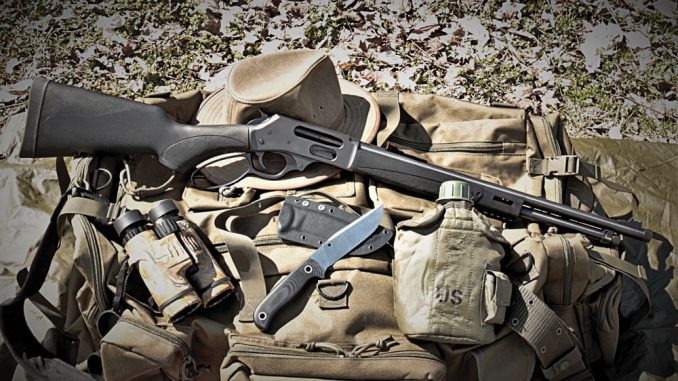 This year, the COVID-19 pandemic has taught us that things, even in a comparatively prosperous country such as ours, can deteriorate quickly. As a result, many people are rethinking their preparedness strategies.
Naturally, when it comes to firearms, you want the right tool for the job. But, in times of crisis, you can never be certain what that job might be. A survival scenario might entail you needing to procure food or defending yourself against animals that want to procure you as food. Survival might also mean defending your property and critical supplies when the lights go out on civilized society and we're thrust back into to the "Dark Ages" and everyone must fend for themselves.
So, when it comes to choosing a long gun, I want something that's versatile, fast-handling, reliable and chambered for a hard-hitting cartridge. In addition to its being effective for hunting large game, I want to be able to accessorize it to make it work in a tactical situation without being concerned if I have to cross into jurisdictions that criminalize the possession of "scary assault weapons."
One great choice combines the old and the new. The "old" is the .45-70 Government cartridge, which the U.S. military adopted way back in 1873. With the right load, it can take any animal that walks the Earth. The "new" is the Henry X Model lever-action rifle that provides a rock-solid, fast-cycling action, along with features that give it additional versatility and tactical utility over previous models.
Easy Load and Unload
As with several of the newer Henry rifles, you can load or unload this model from either end of the gun. Due to popular demand, last year, Henry began adding a loading gate on the right side of the receiver on some of its models. The new X Model includes this feature too. It allows you to quickly and easily top off the four-round magazine to bring it to full capacity in a critical situation or to introduce a different load for your next one up.
With lever guns from other companies that feature only a side loading gate, you must cycle each round through the gun's action to unload it. However, because Henry has retained the loading port and removable inner magazine tube at the front of the gun, you can unload the magazine without cycling the action. Naturally, you should then also make sure the chamber is clear.
Stock Features
This new X Model comes with a rugged, maintenance-free, black synthetic stock. While I prefer the look of a walnut stock, I've come close to tears at times after scratching or gouging fine wood. With a synthetic stock, I don't worry—or care—about such things. This helps make the X Model a rough-and-ready rifle that can take the hard knocks.
The stock adds versatility to this lever gun by including a Picatinny accessory rail under the front of the stock and a Magpul M-LOK slot on each side. So, you can mount lights, lasers, bipods or any other gadget that suits your purposes. I like the idea of being able to quickly mount a light to a gun—whether you're hunting predators or other critters at night or lighting up a threat in a defensive situation. I've missed opportunities at close-range hogs in fading light when I wished I'd had a weapon-mounted light.
The stock is set up for the easy addition of a sling via attachment points fore and aft. There's a solid rubber recoil pad on the buttstock, something you'll really appreciate when shooting loads at the top end of the power spectrum.
Other Features
This X Model features a 19.8-inch barrel with a 5/8×28 threaded muzzle that allows you to add a suppressor or muzzle brake. For fast sight acquisition, the X Model comes with fully adjustable, high-visibility fiber-optic sights that are green on the front and contrast with the red at the rear. The receiver is drilled and tapped for a scope mount as well.
Worn half-cock notches have been known to fail on some old lever guns. And manual safeties on some newer lever guns are sometimes criticized for being awkward to use or an "unsightly deviation" from tradition. The Henry has neither, and neither is necessary to make this gun safe. It uses a passive transfer bar attached to the hammer face and works in a similar fashion to that of a modern revolver.
Carrying the gun with the hammer down, the transfer bar is lowered so the firing pin can't be contacted. With the hammer cocked and the gun ready to fire, pressing the trigger causes the transfer bar to rise into position as the hammer falls. Should you decide not to fire, and you wish to lower the hammer, point the rifle in a safe direction, maintain full control of the hammer, momentarily press the trigger to release the hammer, remove your finger from the trigger (which lowers the transfer bar), and carefully lower the hammer.
Like similar lever guns, the Henry also has a passive safety that's disengaged automatically when the lever is closed; this ensures the gun can't be fired unless the action is fully closed.
The lever loop, itself, on the X Model is enlarged slightly and (in my opinion) is the perfect size. The lever loop on some rifles is so small that you can forget about fitting a gloved hand inside. In addition, small loops sometimes bash the hand when firing hot loads. If the loop is too large, your hand loses contact with it when cycling the action, which slows you down considerably. I used a lever gun with a very large loop in a cowboy action shoot once and regretted the choice.
Accessorizing
I don't mount scopes on my lever-action rifles very often. But I also knew that to get the best idea of this rifle's accuracy potential, I'd have to use a scope. The scope base that Henry offers for its Big Boy rifles won't fit its .45-70 guns. However, a Weaver 63B scope base will. I attached one of those Weaver bases and mounted an old Bushnell 3×9 scope to do the accuracy testing.
If I were making a scope a regular part of the setup, I'd mount one using quick-detach rings so I'd have the option of switching back and forth among a magnified optic, a reflex red-dot and the open sights. Skinner Sights offers a great option for this. It makes a scope base with a 7-inch section of rail that includes a peep sight. The sight has a small aperture for precision shooting that can be unscrewed and removed to provide a wider ghost ring aperture for fast sight acquisition.
If you'd rather keep the peep sight as a backup, Skinner also offers a 1×6 scope with a 30mm tube and a 24mm objective lens. It features crosshairs with bullet drop compensator (BDC) lines and a 1 MOA illuminated red-dot powered by a single CR2032 battery. This is a good choice for a lever gun. Carry it on the 1-power setting for fast target acquisition up close; dial it up to 6-power for longer shots. It's a good value at a $249.
For a light, I used my Crimson Trace CMR-208 Rail Master Universal Tactical Light that provides two settings (either 420 or 110 lumens of output) with a single CR123A battery. It attaches easily to an accessory rail, such as the one on the Henry X Model.
At the Range
What the .45-70 lacks in velocity it makes up for in bullet weight. I chose a selection of ammo that included Hornady's LEVERevolution with a 325-grain, flex-tip bullet and Hornady's 410-grain Sub-X Subsonic, which might be the choice if you opted to mount a suppressor on the Henry's threaded barrel.
I also shot two Winchester loads: the 300-grain Ballistic Silvertip with a polymer tip and the 375-grain Dual Bond hollow-point load. The heavyweight I chose was the Garrett Cartridges 420-grain Hardcast Hammerhead. If I were headed into country frequented by big bears or other large, dangerous critters, I'd carry the Henry loaded with Garrett Cartridges' hard-cast bullets because of their large frontal flat (meplat) and deep penetration qualities. Or, if you want a really heavy-hitter, the company also offers a load with a 540-grain bullet.
Every Henry rifle I've shot has been super-accurate. Unfortunately, during my time with this rifle, the shooting range I normally use was shut down due to the COVID-19 pandemic. As a result, I had to find alternate testing grounds and ended up being limited to shooting at 50 yards. That short range was hardly a challenge for the Henry. I was able to achieve three-shot, 1-inch groups all day long, with several cloverleaf groups about half that size.
I'm confident I could also get 1-inch groups at 100 yards with my regular bench setup. The trigger was good (about 3.5 pounds), and function was flawless. Recoil wasn't bad, even with the heavy Garrett load. Afterward, I removed the scope and shot off-hand using the fiber-optic sights. Shouldering the gun is natural, and sight acquisition is fast and sure.
Something for Everyone
Load this Henry .45-70 to the max, and you have a great firearm for defense against dangerous game. Load it with lighter, fast-expanding rounds, and the Henry makes a great midrange deer or black bear rifle, especially in states that now allow straight-wall rifle cartridges to be used in what were once shotgun-only areas. While it might not be the best choice for wide-open country, shots out to 200 yards are certainly no problem once you get to know your rifle and the trajectory of your chosen loads.
And yes, because lever-action rifles are so handy, target to target, and fast with follow-up shots, don't underestimate this gun for defense around the home or camp. No, the .45-70 cartridge wouldn't be my first choice for defense, but it would certainly be effective. Remember, it started as our military cartridge. However, if your rifle might take on a greater role in defense for which large, dangerous game isn't as much of a consideration, Henry also offers the X Model in .357 Magnum, .44 Magnum, .45 Colt and even in a smoothbore .410 configuration.
Add a light, laser or suppressor. Attach a rail up top for mounting a variety of optics. With the ability to top off the magazine quickly and easily, this fast-handling lever gun becomes a versatile, very formidable weapon that can handle almost any situation.
With uncertain times potentially around any corner, a Henry X Model lever gun is an effective choice and one that isn't likely to be outlawed any time soon.
Editor's note: A version of this article first appeared in the August, 2020 print issue of American Survival Guide.