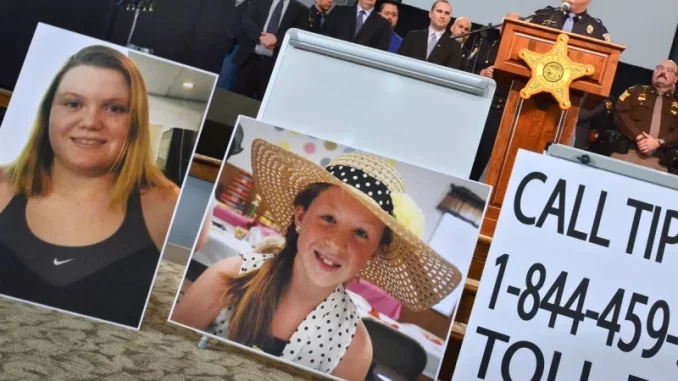 OAN Newsroom
UPDATED 5:03 PM PT – Tuesday, November 1, 2022
The families of two Indiana girls murdered five and a half years ago, could soon see justice.
It has been 2086 days since Abigail Williams and Liberty German were both found dead in Delphi, Indiana. 
On Monday, Indiana State Police provided crucial updates in the double homicide case and announced the arrest of 50-year-old Richard Allen.
"I believe in a God of justice and righteousness. Today I believe that that same God has provided us with justice for Abby and Libby," Sheriff Tobe Leazenby said.
Allen, a local resident of Delphi, is being charged with two counts of murder in connection with the deaths of Williams and German. He has entered a preliminary plea of not guilty.
On February 14th, 2017, the bodies of 13-year-old Williams and 14-year-old German were found one day after they had gone for a hike on the Monon High Bridge Trail. The girls had taken videos of a man who seemed to be following them, catching his voice on tape.
Little evidence was provided during the conference, as the court has sealed the probable cause affidavit.
Allen reportedly worked at a local CVS. His home was searched last week with investigators focusing on a fire pit.
The Carroll County Prosecutor, Nicholas McLeland, acknowledged the community's frustration but assured that keeping aspects of the case private will protect its integrity. He has asked for patience and understanding, adding that Allen is presumed innocent until proven guilty.
"We will have opportunity and a day in court when we can present the evidence that we have against him," McLeland said. "But until that day, he is presumed innocent."
Authorities were not able to provide a timeline of events, but superintendent of the Indiana State Police, Douglas Carter, said that the arrest is a step in the right direction.
"This investigation is far from complete, and we will not jeopardize its integrity by releasing or discussing documents or information before the appropriate time," Carter said.
There will be a public hearing in the future to determine how soon the documents could be unsealed. A pre-trial hearing is set for January 13th and a trial date has been set for March 20th.